Bundesliga: Bayern Munich kick off 2014 with win at Borussia Monchengladbach
Bayern Munich cruised to a 2-0 win at Borussia Monchengladbach to open up a 10 point gap at the top of the Bundesliga.
Last Updated: 25/01/14 10:29am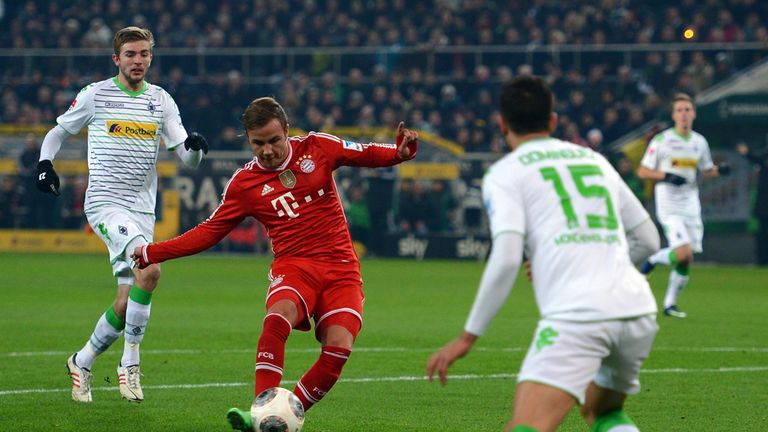 Bayern Munich began 2014 as strongly they ended 2013, with a routine 2-0 win at Borussia Monchengladbach moving them 10 points clear at the top of the Bundesliga.
The visitors did not have things all their own way, but goals from Mario Gotze and Thomas Muller earned them a 15th win in 17 games this season.
Gladbach put up a brave fight after falling behind in only the seventh minute, hitting the post through Patrick Herrmann and testing goalkeeper Manuel Neuer several times, but an efficient and effective Bayern appear unstoppable as they look to secure a second successive Bundesliga title.
In the second minute, a long ball forwards left Neuer in two minds, and no-man's land, but the bounce favoured the Bayern goalkeeper and not the looming Gladbach forward Max Kruse.
Gotze, playing as the lone attacker for Bayern, then struck the outside of the far post after chipping the ball intelligently past Alvaro Dominguez to leave him with just Marc-Andre ter Stegen to beat.
On the next break, Gotze made no mistake when Muller pulled the ball back from the goal line and the Germany international tucked it into the far corner without hesitation from near the penalty spot.
Bayern appeared in control of the game, bossing the midfield and hoarding possession in typical style, but the hosts did not capitulate.
They worked their way back into the match and towards the end of the first half had several chances to level.
Juan Arango's free-kick stung Neuer's palms before Kruse drew a save out his Germany team-mate. On the stroke of half-time, Arango's angled effort was parried by Neuer, who was relieved to see no Gladbach player cantering in to meet the loose ball.
The second goal arrived early in the second half when a bit of pinball inside the Gladbach box, with ter Stegen twice making excellent saves, saw the ball strike Granit Xhaka's forearm, and as Bayern failed to gain advantage with shot after shot blocked, the referee finally decided to award them a penalty.
Muller beat ter Stegen from the spot and that was that.
Just as in the first half Gladbach fought back, and Herrmann beat Neuer but struck the inside of the far post.
The Gladbach forward then wasted an opportunity identical to the one Gotze put away in the opening period, evidencing the difference between the two sides.