Mancini unsure over Tevez future
Roberto Mancini claims he 'doesn't know' whether Carlos Tevez will play for Manchester City again.
Last Updated: 14/10/11 7:18pm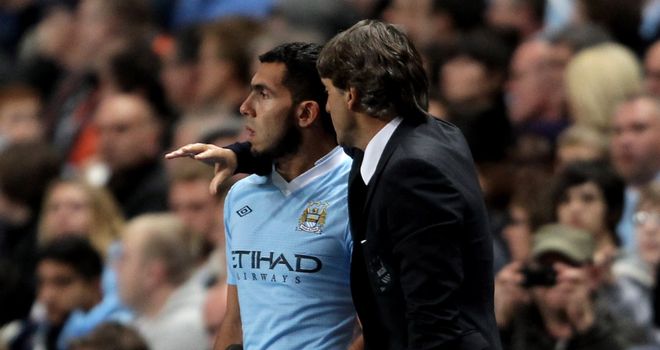 Roberto Mancini claims he 'doesn't know' whether Carlos Tevez will play for Manchester City again.
City were again staying tight-lipped on Tevez amid the ongoing disciplinary case involving the Argentine's alleged refusal tp play against Bayern Munich in the UEFA Champions League last month.
A City official had outlined the club's position and warned the press conference would be terminated if questions about Tevez were asked.
"We have been unable to allow questions about Carlos Tevez today, either to Carlos in general, his alleged conduct on the night in question, or the ramifications of that conduct," said the official.
"Questions also in relation to his future at the club are strictly off limits today and won't be answered. Breaches of this will result in the press conference being cancelled."
Unsure
However, Mancini was still asked whether Tevez had a future with the club.
"I don't know," responded the Italian.
Mancini did indicate Tevez, who returned to training on his own on Thursday, was not in his plans when he addressed how many strikers he had available for the clash with Aston Villa on Saturday.
"We have three strikers at this moment," said Mancini, who has vowed not to take any risks with Sergio Aguero, who has been suffering from an adductor muscle injury.
Mancini also insists he is not feeling any pressure, having been made immune to such issues during his four years at Inter Milan.
"If you speak with Rafael Benitez, with Marcello Lippi, with Leonardo, Inter Milan is a strong team for any manager," noted Mancini.
"If you stay there for four years, you are strong enough to be at every club.
"I don't have any problems. I have had experiences in my life. Why should I have any pressure?"
Better manager
Mancini also feels he has improved as a manager since arriving at City two years ago.
"I am a better manager now," continued Mancini.
"When you go to another country, you can work with different players in different situations, in a different culture.
"Every manager can improve. I am sure that I have improved in England."