Howard - Can't do Mucha
Tim Howard has sympathised with Jan Mucha after his poor performance led to Everton's exit from the Carling Cup.
By Matthew Skinns
Last Updated: 28/10/11 9:44am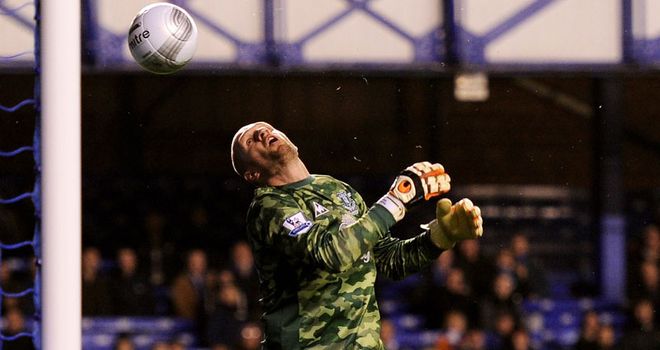 Tim Howard has voiced his support for Jan Mucha, moving to console his fellow Everton goalkeeper after his Carling Cup nightmare against Chelsea.
The Slovakian replaced first-choice Howard for the fourth round tie on Wednesday night and conceded two weak goals that sent the Toffees crashing out of the competition.
A looping Salomon Kalou effort proved tricky for Mucha who limply palmed the ball into the back of the net, before parrying an extra time Florent Malouda shot to the waiting Daniel Sturridge who secured a late 2-1 victory.
Howard sympathised with the 29-year-old keeper but admitted it was a personal battle he must overcome alone.
"I feel for Jan, I really do, but there is nothing you can say under the circumstances," Howard said.
"Any goalkeeper at this level will experience those nights, unfortunately, and nothing I could say will make it any better for him.
"At this level, you don't need telling. He had a bad night, it hurts. Time will heal that and he'll move on.
"He'll bounce back and work it out in training, so best leave him to sort it out."
Everton defender Sylvain Distin also supported Mucha, saying: "At half-time we said to refocus and put the mistake in the past. It's done and there was nothing he could do about it."