Bender stays behind for op
Sven Bender was unable to return home with his Dortmund team-mates after a collision left him needing surgery on a broken jaw.
By Thomas Zocher
Last Updated: 24/11/11 11:06am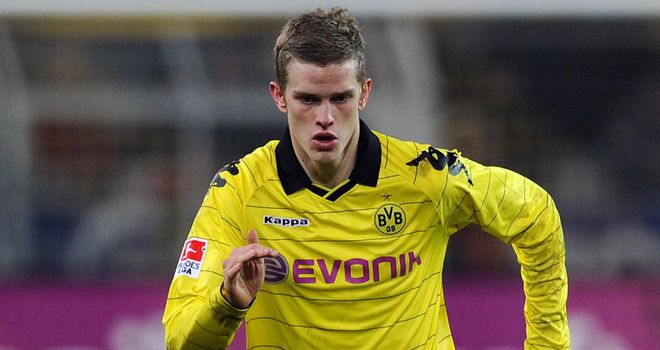 Sven Bender was unable to return home with his Borussia Dortmund team-mates on Wednesday night after a collision with Arsenal's Thomas Vermaelen left him needing an operation on a broken jaw.
Bender had to be stretchered off the Emirates Stadium pitch midway through the first half as Dortmund went down 2-1 to the Gunners in UEFA Champions League Group F.
The midfielder had to stay behind for surgery and reports suggest he will now be sidelined until Christmas.
While Dortmund boss Jurgen Klopp does not hold Vermaelen responsible for the outcome of a 50-50 challenge, he feels incredibly sorry for Bender.
"He will have an operation in hospital in London tomorrow morning, he cannot fly home now," Klopp said after the game.
Terrible
Klopp added in Die Welt newspaper: "At this moment in time I am utmost concerned by the injury of Sven Bender. It was a pure knockout, he needs to receive surgery.
"Thomas Vermaelen is absolutely not to blame for the injury, still I feel you cannot have more bad luck.
"It is terrible. We need to see how we can get ourselves over this."
Mario Gotze had to be taken off just a few minutes after Bender with a knee injury and, while the injury is not expected to be serious, Klopp is still anxious to know for certain.
"He has a bruised muscle around the knee and, although he should be okay, we will have to wait and see," Klopp said.
"We started well, but after those two injuries in four or five minutes, it really hurt us and gave Arsenal a lot of confidence."