January sales anyone?
The shadowy world of the football agent is one that is cloaked in secrecy amid accusations of greed. Thankfully, we've got one of the good guys on board to lift the lid on what life really is like at the sharp end of a notoriously cut throat business.
By Secret Agent - Follow me on Twitter @SSSecretAgent
Last Updated: 28/02/12 11:46am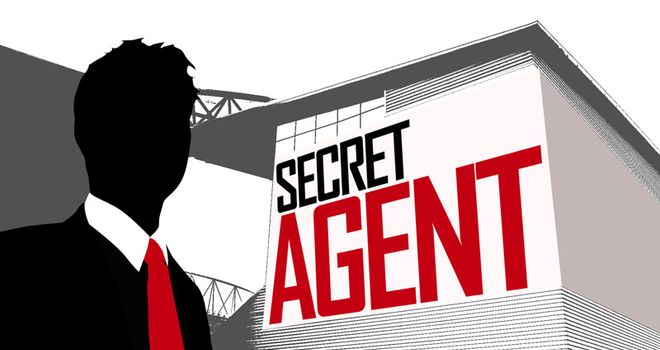 For a football agent the January transfer window is much like the post-Christmas sales: overrated and likely to leave you feeling unfulfilled. The initial surge of excitement and chaos as the doors swing open soon subsides as the realisation hits that only Big Daddy or Ronnie Corbett will leave the building with a correct size. Upon returning home a prolonged sense of anxiousness sets in as you concede you've just bought a turkey - out of season and out of luck. Football is no better.
As mentioned in previous blogs, a team's season and a manager's career can often hinge on a successful recruitment policy during the winter window. A shrewd move can mean the difference between Premier League survival or a top-four finish, while a rash impulse buy is likely to be reciprocated with a P45 in the long run. The turn of a new year is no time to lose your job. Neil Warnock might be retreating to Cornwall with plenty of coin in his pocket but he'd rather be sat in a dugout than on a deserted pebbled beach.
For agents, the month of January is absolute chaos. At this time of the year I tend to be spinning more plates than a Greek waiter at a wedding. Unlike the summer where we have three or four months to complete a deal, the window is only open for 31 days. The days are long, distances travelled even longer and the sense that you're banging your head against a wall is incessant.The real stress is never truly being in control of a situation as so many other 'outsiders' are invariably trying to get involved. Imagine having to do your day job while constantly being paranoid that the guy sitting next to you is trying to rifle through your pockets. That's what it's like.
Just look at the situation involving Demba Ba this week. Wednesday morning's press was dominated by quotes from an agent claiming interest from Manchester United in his client, Ba; by the afternoon the Newcastle striker had been on Twitter to rubbish he even had a relationship with the aforementioned. The truth is probably somewhere between both of their respective accounts.
The posturing and manipulation of the press swung into action weeks ago, with the same old headlines dominating the now ubiquitous transfer gossip columns.
Quote: 'The agent for Player A has played down talk that the striker could leave in January.'
Translation: 'Remember my kid? He's still a decent player despite not being picked by his manager lately. Please someone sign him before his value drops.'
Quote: 'Manager of Club B insists the club have yet to receive any enquiries for defender Z following reports he is set to leave.'
Translation: 'The club's finances are about to hit the fan so here is a reminder of this player's availability. Please someone buy the bugger.'
With the ever increasing pages of transfer gossip columns now being added to with Twitter accounts throwing names out left, right and centre, the credibility to many stories is being stretched all the time. Cobbling together a couple of lines to throw to the Red Tops is almost passé these days with the advent of the internet. There's about as much chance of a modern football fan getting their news from the papers as there is a modern music fan queuing up outside an independent record store to pick up a vinyl release.
It's archaic and as agents, we're well aware that with the business of transfers now a 24/7 enterprise, the web is the best way to control a story. If a story involving one of my lads goes to print that's it - it's literally there in black and white. However, if I choose to leak a story through a website I know that it will evolve and can be updated as and when other parties have had their say. A deal's never dead on the web!
That said, the clock is ticking so if I'm going to get a deal completed before the end of the month, I need to be speaking to the movers and shakers at various clubs rather than shooting the breeze with my favourite journos. They're not all that bad...just most!
For one Premier League player I'm working on this window, I sounded out the potential suitors long before Santa came down the chimney last year. I stopped short of sitting on his knee but I left him a mince pie and a drop of the good stuff so I'm looking for my payback. I've made contact with six clubs who I know are looking for this type of player or I'm aware that they have already made their interest known previously. Getting word from a chief scout, who are often tasked with talking to agents, gets the ball rolling but it's only when you get the nod from a manager can you tentatively flick through the Merc brochure...
With an agreement (mandate) in place, and fee agreed dependent on the amount of money I get for the player, I can now speak to his suitors and try to get offers. The selling club would like to get top dollar for their player (obviously) and there will be a figure in their mind that they would hope to achieve. However, there will also be a minimum price that they would reluctantly sell for.
Obviously you can't tell any of the interested clubs of this range, but they will have a rough idea of his worth and the price will be dependent on how much they want him and how many players in his position are available. Expecting a £10million fee for a right-back when there are better and more experienced alternatives available in the market will stop the negotiations before they have started. People often say it's a seller's market at this time of year because of the scarcity of quality available but in the current financial climate you may as well be Bruce Forsyth as Kia Joorabchian if the price isn't right.
I'm in the fortunate position of trying to sell a player who has had a very good first half of this season; though unfortunately it's not Demba Ba! Working out a player's value depends on the length of contract the player has left, his age, his playing position, if he is an international or not and the market conditions at any given time. This can fluctuate at various times within a window - just think about how the market exploded in a single day when Chelsea bought big on Fernando Torres. Clubs working the market in January are likely to be doing so out of necessity rather than through organic growth, so if you're a steady full-back - forget about it. Taking all this into account I would say that this particular player's value is between £6-8million.
How the potential suitors see this value is another matter, but it's my negotiation skills that need to be up to scratch to try to get a fee in this range. Get top money for the player and I'll have my feet under the table at that club for future deals. Happy days. But if I only achieve the minimum fee, I'd have done my job and earned a few quid but will probably be shunned quicker than Tevez after not coming off the bench in terms of doing future transfers. It's a balancing act between keeping both clubs and the player happy. What was I saying about spinning plates?
January always sees a huge number of loans going through. If you're not helping a player of your own find a temporary move then chances are you'll have a club asking for your help in finding a few players to take on a short-term basis until the end of the season.
This type of work is a small earner on the side, but more importantly for your clients it could be a way of getting good experience in a new environment if they are a young prospect, or perhaps a player has fallen out of favour after a new manager has taken over and needs a fresh start. It's vital a footballer is playing football in the second half of the season, especially if their contract is up in the summer. In these austere times if you're not playing in January then it could be you might not be in August either.
Despite the potential big pay day from selling in the Premier League I can't take my eye off my 'bread and butter' clients either, especially those a few divisions down the football pyramid. Too many agents are in this business for the quick buck. That's fine if that's how they want to be, but it's not for me. I have a conscience and will always try to ensure my lads in the divisions where high wages and transfer fees feel a million miles away, still believe I have their best interests at heart. I'm no saint and like everyone else money talks but I'd like to think the 'bulls*** walks' part doesn't apply to me.
As an agent it's important you spend as much time and effort on all of your clients, whether it's a Premier League star or an old journeyman out on his luck. Just this last week I was driving a lad up to Scotland to discuss a deal. Any move that might transpire here won't change my life, but it might just change his.
And that's something worth remembering.