Le gossip
French clubs remain the most productive in Europe in terms of nurturing young talent and with Sir Alex Ferguson, Harry Redknapp and Roberto Mancini all having been spotted at various Ligue 1 matches this season, we ask who have they been watching?
By Jonathan Johnson - @Jon_LeGossip
Last Updated: 28/03/12 4:40pm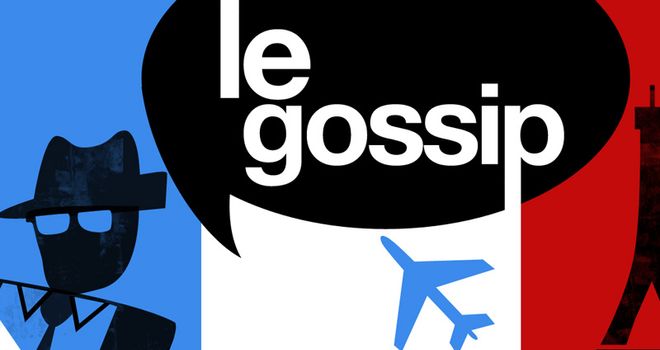 With the January transfer window still relatively fresh in the memory but the end of the season now on the horizon, a number of Ligue 1 talents have been earning envious glance from across the Channel. Traditionally famed for its ability to breed some of European football's top talents, le Championnat perennially attracts interest from the biggest clubs in Europe scouring the continent for the best players.
French clubs remain the most productive in Europe in terms of the many conveyor belts of talent dotted around the country and this season has nutured another fine batch of potential gems that are already attracting heavy interest from the Premier League in particular. Sir Alex Ferguson, Harry Redknapp and Roberto Mancini have all been spotted at various Ligue 1 matches this season, so who have they been watching?
Eden Hazard (Lille)
The name of everybody's lips when it comes to French football right now is Eden Hazard. The talented Belgian wonderkid who has been Ligue 1's player of the year for the last two seasons is lighting up the competition again. Although not as impressive as last season, he has improved this year statistically having already notched 13 goals and 10 assists in 29 games and his form suggests a player who is fine tuning his technical abilities.
Age: 21
Talents: An ability to do everything at speed. His ball control, passing, shooting and reading of the game is always a couple of steps ahead of his opponent buying him valuable time in which he is lethal.
Drawbacks: Sometimes fails to impose himself on a game and then vanishes from the match and appears disinterested.
Favoured role: An attacking midfielder who has also played out wide on the left, Hazard is a great danger for Lille in the centre.
Value: €40million is his buyout clause and Lille will not accept a penny less.
EPL interest: Manchester City, Manchester United, Tottenham, Arsenal, Chelsea.
Where will he end up? Manchester City.
Olivier Giroud (Montpellier)
Ligue 1's unqualified revelation of the season, Olivier Giroud has enjoyed a meteoric rise to fame over the past three seasons. A relative unknown playing for Tours in Ligue 2 in 2009, Giroud has thrived since his switch to Montpellier in 2010 and has scored 72 goals in the process. 18 of those have come this season including seven assists from just 27 starts. A rare predatory goalscorer, his signature will be highly coveted once the transfer window opens.
Age: 25
Talents: Tall, strong, technically refined and unerringly consistent.
Drawbacks: A lack of pace occasionally hinders him.
Position: Out and out striker and dream target man.
Value: His club President values him at €50-60million but his buyout clause is believed to be a lot lower. Expect to see him on the move for around €15million.
EPL interest: Arsenal, Newcastle, Aston Villa.
Where will he end up? Arsenal.
Loic Remy (Marseille)
Since joining southern giants Marseille from Cote d'Azur rivals Nice in 2010, Remy has become a vital player for l'OM and has been a key component in their run to the Champions League quarter-finals this year. Scorer of 10 goals as well as providing three assists in 23 games, Remy is looking to ply his trade at the top level of European football and with les Phoceens struggling to even guarantee a Europa League berth right now, the striker could be of exceptional value this summer.
Age: 25
Talents: Speed, elegance and sense of timing in attack.
Drawbacks: Still perfecting his trade and prone to the odd poor decision or fit of frustration.
Favoured role: Striker but also gets played on the wing.
Value: €20million, depending on his performances at this summer's Euros.
EPL Interest: Tottenham, Arsenal, Liverpool.
Where will he end up? Tottenham.
Yann M'Vila (Rennes)
A first choice player for Laurent Blanc in his French squads, M'Vila is the holding midfielder that France has been crying out for since Claude Makelele and Patrick Vieira were put out of international service. Having been in impressive form for his club Rennes, the midfielder has attracted the interest of Europe's biggest clubs and the Breton outfit have admitted that they can no longer keep him. Although perhaps not enjoying his best season personally, his team's success is often linked his performances and with Rennes challenging for European qualification M'Vila is taking some of the plaudits.
Age: 21
Talents: Intelligence, reading of the game, metronomic distribution of the ball.
Drawbacks: Guilty of turning Rennes into a one man band at times.
Position: Holding midfielder.
Value: €20million, again dependent on his performances at this summer's Euros.
EPL interest: Arsenal, Manchester City.
Where will he end up?
Arsenal.
Younes Belhanda (Montpellier)
Compared to Eden Hazard, Hatem Ben Arfa and Samir Nasri by his peers at the club, Montpellier's vibrant Moroccan attacking midfielder has lit up this year's title race with some electric performances. Belhanda's technical ability and impressive consistency have developed hugely this campaign and la Paillade's extended title challenged reflects the progress he has made in the past 12 months.
Age: 22
Talents: Vision, distribution of the ball and creativity.
Drawbacks: Still prone to making naive decisions but improving with every passing game.
Position: Attacking midfield, playing behind the striker (Giroud).
Value: €15million.
EPL interest: Arsenal.
Where will he end up? Staying in Ligue 1 for now.
Mathieu Debuchy (Lille)
Only recently linked with some of Europe's biggest sides, Mathieu Debuchy is one of those less-renowned names currently in Laurent Blanc's les Bleus squad. However, fans of Ligue 1 will have known about Debuchy for a long time and will have been surprised that his first international call-up only came last month and that it has taken this long for European football fans to take note of him. Followed closely by Valencia, Paris Saint-Germain, Bayern Munich and Manchester United in particular, Debuchy like his teammate Yohan Cabaye, who joined Newcastle United last summer, has experienced everything he possibly can with les Dogues, bar playing in their new stadium which opens next year.
Age: 22
Talents: Work-rate, passing, crossing and that rare balance of being able to defend and attack in equal measure.
Drawbacks: Occasional tendency to hang too far forward when attacking leaving the defence exposed.
Position: Right-back.
Value: €10million.
EPL interest: Manchester United.
Where will he end up? Most likely Valencia.
Marvin Martin (Sochaux)
2011/2012 has not been the best of seasons for Martin. Struggling to replicate his stellar form from last season where he netted three goals and laid on 17 for his teammates as Sochaux finished fifth, this season les Lionceaux are toiling at the wrong end of the table and Martin has been anonymous at times. Despite his indifferent form at club level, Martin has been a regular in Laurent Blanc's international selections and looks like he will be on his way to the Euros. However, a recent run of good form has seen Sochaux's chances of survival boosted and he has already said he wants to leave at the end of the season.
Age: 24
Talents: Passing, teamwork, eye for an assist and flawless decision-making.
Drawbacks: Struggles under pressure and not the strongest or biggest of players.
Favoured role: Attacking midfield playmaker or central midfielder.
Value: €15million.
EPL interest: Arsenal.
Where will he end up? Likely to stay in Ligue 1, possibly with Lille or Marseille.
Mapou Yanga Mbiwa (Montpellier)
Captain of title challengers Montpellier at only 22 and has already amassed over 160 league appearances for the club. A player of rare experience for such a young age, he is a monstrous presence at the back for la Paillade and is a tough obstacle to beat. Wants to challenge himself at a higher level but MHSC could be offering Champions League football next year.
Age: 22
Talents: Tremendous physicality, great tackling ability, refined technique and brilliant sense of timing.
Drawbacks: Occasionally lets his mind wander which is natural for a youngster.
Position: Central defender.
Value: €10million.
EPL interest: Newcastle and Arsenal.
Where will he end up? If he moves then Newcastle, However, Champions League football will more likely see him stay at Montpellier for another year.
Steve Mandanda (Marseille)
Not the best of years for Mandanda and his Marseille side but the France international number two has still proven his worth this season despite his club's shocking form. Guilty of having made a few mistakes this campaign, Mandanda's form is indicative of his club's strife. Captain of the side, the 27-year-old has cut a frustrated figure at times and with the Champions League being OM's last chance of glory this year, the club could struggle to hold on to the custodian who has made no secret of his desire to ply his trade in the EPL.
Age: 27
Talents: Great natural instincts, sharp reflexes and a dominant figure inside his penalty box.
Drawbacks: Prone to the odd rush of blood to the head.
Position: Goalkeeper.
Value: €15million.
EPL interest: Arsenal, Manchester United, Tottenham.
Where will he end up? Although Champions League football is important to him, OM will probably end up missing out so he is likely to stay in France for another year until the right opportunity abroad presents itself.
Ryad Boudebouz (Sochaux)
Like Martin, Boudebouz has been part of a struggling Sochaux side this season and was linked with a number of moves to bigger European clubs following last term's success. This year the Algerian has had to drag his team single-handedly at times and despite only being 22 has already amassed plenty of Ligue 1 experience. He's still one of the team's main contributors with five goals and three assists in 23 league appearances but when compared to last season's eight goals and seven assists in 38 league appearances, the stats tell their own story. Needs to move and could be part of a French talent fire sale should les Lionceaux drop out of the top flight.
Age: 22
Talents: A fast, tricky and immensely skilful player with an eye for goal. Scorer of spectacular finishes too.
Drawbacks: Unable to carry a team on his own and often struggles under pressure.
Favoured role: Attacking midfielder but can also play out wide.
Value: €10million. Possibly less if Sochaux are relegated.
EPL interest: Liverpool, Aston Villa.
Where will he end up?There will be no shortage of takers but do not be surprised to see him opt to stay in France, possibly moving to Lille as a replacement for Eden Hazard.