Northern Ireland defender Craig Cathcart has vowed to learn from his Russia woe
Craig Cathcart aims to learn from the experience after conceding a penalty in Northern Ireland's 2-0 defeat by Russia.
Last Updated: 08/09/12 11:17am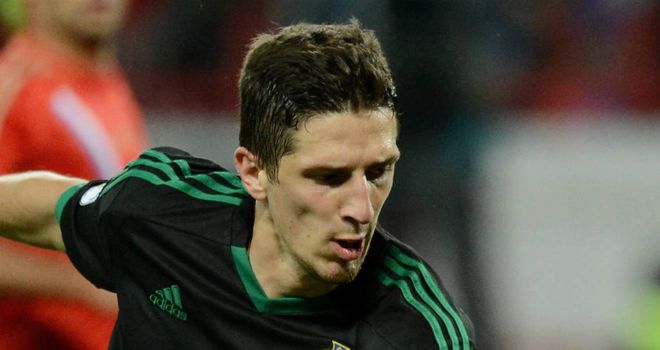 Northern Ireland were trailing 1-0 in their opening 2014 World Cup qualifier when Cathcart was adjudged to have fouled Alexander Kokorin in the box on 78 minutes.
There was minimal contact from Cathcart and the Blackpool defender admits he would not have expected the penalty to be awarded at club level.
However, despite feeling the decision was harsh, the former Manchester United youngster is aiming to ensure he does not get caught out again.
"The penalty was obviously very disappointing as we were very much in the game and had a few chances ourselves," said Cathcart.
"If it wasn't for the penalty we could have pushed forward and maybe forced an equaliser but that penalty hit us hard.
"I think the general consensus of the decision was that it was harsh. That's what the manager said.
"I think if this was a Championship game then that would never have been a penalty. It would have been a case of 'play on'.
"But it's a different style of football and we knew that coming into the game. Players in international football seem to go down a lot easier.
"I've got to learn from that. That's the thing with international football. You are always trying to improve and I will learn from this decision."