Focus on Fellaini
Marouane Fellaini has been quoted as saying his time at Everton is coming to an end. Adam Bate looks at the midfielder's growing importance at Goodison Park.
By Adam Bate - Follow me @GhostGoal
Last Updated: 12/11/12 1:36pm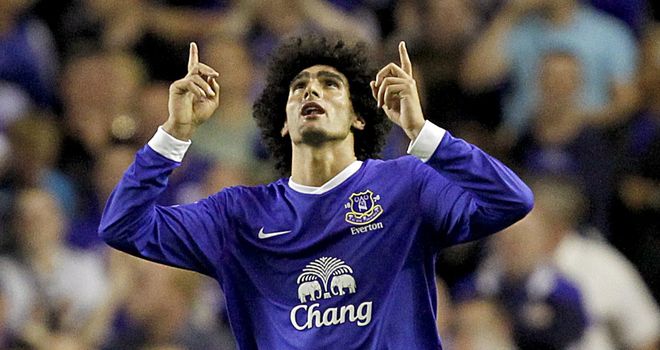 Flemish newspapers don't usually resonate strongly on the streets of Bootle, Croxteth and Kirkdale. But Everton fans would have been alarmed to discover Marouane Fellaini's apparent plans for the future in Sunday's edition of Het Nieuwsblad. "I have started my fifth season at Everton," read the quotes attributed to the Belgian. "This will be one of my last seasons. I have seen everything. In January, or at the end of the season, I will look for another club or league."
Aside from the curious thought that, like Patrick Stewart in Extras, Fellaini has "seen everything" in his time with the Toffees, it's a worrying development. The 24-year-old has rushed to distance himself from the quotes, claiming on Monday to be "very happy" at Goodison Park, but it would be only natural for Everton fans to start wondering just what they could soon be missing out on.
Plenty is the obvious answer. Fellaini captured the headlines - no mean feat on Robin van Persie's debut - with a dominant display against Manchester United in his side's opening game of the Premier League season. Playing an advanced role in the hope of exposing Michael Carrick at centre-back, Fellaini didn't so much take part in the game - he took over. Gary Neville told Sky Sports viewers that the Belgium international was "unplayable" and while it is understandable that many would linger on the contrast with the out-of-position Carrick it was noticeable that even the formidable Nemanja Vidic had no answer to the 6'5" man in blue.
PL 2011/12 & 12/13 - Midfielders Only
Headed Shots
Fellaini, Marouane
22
Cahill, Tim
16
Bale, Gareth
12
Johnson, Bradley
9
Osman, Leon
8
McClean, James
8
Derry, Shaun
7

And there's no shame in that. Fellaini is not only the midfielder with the most headed goals in the Premier League but also the most headed attempts since the start of last season. Everton team-mate Phil Jagielka has outlined the problem. "When he is switched on like he was it is nearly impossible to mark him," explains Jagielka. "He's about a foot taller than me so there's pretty much nothing you can do other than stay behind him and give him a little bit of a nudge and hope he has an off day."
United boss Sir Alex Ferguson knew all about the threat and appeared a little churlish in his assessment after the game. "Fellaini is a handful," Ferguson explained. "He is a big, tall, gangly lad and they just lumped the ball forward to him. That's all they did. They worked from that base all the time and they got a goal from him, so it's justified."
There's a certain irony in Ferguson hinting that Fellaini is a one-trick pony being crassly exploited by his master David Moyes. In truth, his deployment by the Everton boss has been anything but one-dimensional. Indeed, Fellaini has frequently been used in a far deeper role than he has been in the early stages of this season. But Moyes opted to unleash him against United because the situation so clearly demanded it.
"He's far better when he's joining in and getting forward because he can do a bit of everything," Moyes told Everton's official website after the game. "I've always known that Marouane can do that job. We had just been looking at the right time to do that. Marouane's performance against Manchester United was excellent. But I thought he has been in near enough all games."
As Moyes' comment that Fellaini "can do a bit of everything" suggests, the former Standard Liege man is close to being the complete midfielder and that's been reflected in the manager's use of the player over the past four years. His heading has been an important asset at both ends of the pitch, intercepting the ball from opposition goal-kicks as well as providing a notable goal threat for his own side.
PL 2011/12 & 12/13
Tackles Won
Dembélé, Moussa
94
Cabaye, Yohan
90
Fellaini, Marouane
88
Allen, Joe
87
Mulumbu, Youssuf
83
Parker, Scott
76
Gutiérrez, Jonás
75
Song, Alexandre
73
Sandro
72
Faurlin, Alejandro
70

With a pass completion percentage of 80% since August 2011, Fellaini is also a reliable user of the ball. He's quick and, most significantly when used in a deeper role, he is a phenomenal tackler. In fact, the wiry colossus has the third-best tackle success of any Premier League player over the past year. A ball-winning midfielder who can operate comfortably in an advanced position can be a dangerous opponent.
But for how much longer? "Unfortunately, with the way the club is, if somebody comes in with a £20million-plus offer, the chances are he's going to be sold," adds Jagielka. "We love Felli and we'd love him to stay. There's not been that much transfer talk but we know the situation we're in. We bought him for £16 million and I don't think the club would take a loss. He's developed in that time, especially in the last few games of the (2011-12) season, just behind the front one, and he's destroyed teams."
The player's all-round importance to Everton is highlighted by a quick comparison with the rest of the Toffees midfielders last season. Fellaini is a more successful tackler than both Jack Rodwell and Phil Neville but has also been involved in more goals than either Leon Osman or Tim Cahill as well. While the losses of Rodwell and Cahill have been absorbed this summer with new additions coming in, Fellaini is effectively several options rolled into one huge frame.
Premier League 11/12
Fellaini
Neville
Rodwell
Osman
Cahill
Appearances
34
27
14
30
35
Minutes On Pitch
2,856
2,068
926
2,377
2,350
Goal Attempts
 
 
 
 
 
Goals
3
0
2
5
2
Mins per goal
952
-
463
475.4
1175
Mins per Shot
77.2
1034.0
48.7
55.3
63.5
Shooting Accuracy
46%
0%
32%
58%
41%
Chance Conversion
8%
0%
11%
12%
5%
Passing
 
 
 
 
 
Goal Assists
4
0
1
1
2
Mins per Chance Created
114.2
147.7
132.3
60.9
123.7
Mins per Pass'
1.6
1.9
2.4
2.3
2.6
Pass Completion %
80%
81%
88%
83%
78%
Defending
 
 
 
 
 
Mins per Tackle
28.8
60.8
51.4
67.9
53.4
Tackles Won %
85%
82%
83%
69%
84%
Mins per Aerial Duel
24.4
60.8
92.6
48.5
16.2
Aerial Duel Success
74%
56%
60%
41%
37%

As Jagielka notes, losing players is an unfortunate reality for Everton. There has been a long list of high-profile exits from Wayne Rooney to Rodwell, encompassing the likes of Joleon Lescott and Mikel Arteta on the way. But the key is ensuring that the transition is managed effectively and with minimal disruption - something that Moyes and his players have learned through painful experience.
Phil Neville, speaking in the summer, spelled out the problem. "People always ask me why we start the season poorly and only once in my time here have we started well and that was when we signed Joleon Lescott, Tim Howard and Andrew Johnson early in the summer," said the Everton skipper. "We have looked into many things but I think it is the recruitment which has been most important. When it is done early there is not the uncertainty of who we are bringing in or who is leaving."
After winning their first two matches of a Premier League campaign for the first time in five years, there would be something faintly tragic about Everton's fate should their key player start seeking an exit strategy in the second week of September. Moyes would doubtless find a way of tinkering with his team to find a way of keeping the club in the top half of the table. But in this squad, flexible players who can play a pivotal role in defence and attack are even more important - and such a player at the peak of his powers would be a huge loss at any price.