The state of play
With every club now having played at least 10 games, Chris Collinson looks at how Premier League clubs are performing compared to last season
By Chris Collinson - Follow @SkySportsChris
Last Updated: 16/11/12 3:16pm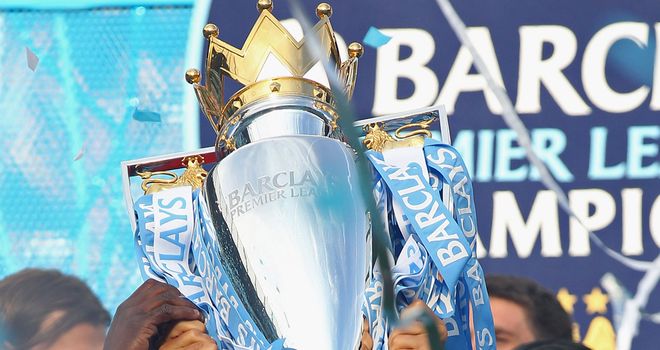 Managers and pundits alike say that the time to start judging a club's performance is after their first 10 games of the season, with many saying that they don't even look at the table until then.
But just looking at the table doesn't give a clear indication of how a club is performing. All the clubs have different ambitions - from winning the title to just surviving - and, more importantly, have had starts which vary widely in terms of difficulty. For example, Southampton have faced seven of last season's top 10 teams so far while Swansea have faced only three, so to compare them just by looking at the table is unfair. Even comparing a team's start to their own last season is misleading for the same reason.
A fairer way of assessing how clubs are performing this season is to compare their current points totals with how many points they took from those same fixtures last season, which takes into account both the different quality of teams and the varying difficulties of their starts.
For the promoted clubs, we can compare their results against those of the equivalent relegated club: champions Reading with Bolton, Southampton with Blackburn and play-off winners West Ham with bottom side Wolves. However, the three promoted clubs are aiming to survive, not equal points tallies that led to relegation. In the last 10 Premier League seasons an average of 37 points has been needed to survive, so to see whether the promoted clubs are on course to achieve that, a handicap is added to each club to signify the additional points needed over the course of the season (West Ham need 12 more points than Wolves' 25 last season, for example).
Chelsea +10 pts
With notable wins against Newcastle, Arsenal and Tottenham so far this season, Chelsea are by far the most improved of all the Premier League clubs. But with a net spend of £74m in the summer - almost double that of second-biggest spenders Manchester United - it can be argued that significant improvement should be expected.
Stoke +5 pts
Despite winning only two of their opening 11 games, Stoke have so far performed much better than last season. The Potters won only one of the same fixtures last season (also at home to Swansea) and this season have taken more points against Wigan, Sunderland and QPR, with their only drop in results away at Norwich.
West Ham +4 pts
West Ham have so far shown little signs of repeating Wolves' poor Premier League campaign last season. Even taking into account that with over a quarter of the season gone the Irons need three extra points to have a chance of survival, their start shows promise of achieving something more.
Fulham +3 pts
Despite the loss of Mousa Dembele, Clint Dempsey and Danny Murphy, Fulham have actually taken more points from their fixtures than last season. Considering that they recouped £14m in transfers over the summer - the most in the Premier League - the Cottagers can be pleased with their start to the season.
Swansea +3 pts
Impressive wins against QPR and West Ham saw Swansea hit the ground running under new manager Michael Laudrup. Although they failed to repeat last year's win against Aston Villa, these two wins and a victory against Wigan have seen Laudrup and his La Liga acquisitions so far quell any fears of second-season syndrome.
West Brom +2 pts
A blistering start saw West Brom take seven points from three opening games in which last season they took none. However, while they have improved overall under new manager Steve Clarke, it's not by as much as the table implies, with them having taken fewer points in four of their eight games since.
Manchester City +2 pts
After taking 25 points from their opening 11 games compared to 31 points from their opening 11 games last season, it seems that the champions have performed worse so far this season. But although they failed to repeat last season's win against Arsenal, turning draws into victories against Fulham, Sunderland and West Brom has seen them improve overall.
Everton +1 pts
After taking 20 points from their opening 11 games compared to just 13 points from their opening 11 games last season, the Toffees have avoided their usual sticky start. But while they have improved - with wins against Man Utd and Aston Villa - it's not to the extent that the table suggests, with them failing to repeat wins against West Brom, Newcastle and Fulham.
Manchester United +1 pts
With wins away at Liverpool, Newcastle and Chelsea, Manchester United have improved and currently sit top of the table. But defeats away at Everton and at home to Tottenham mean that the Red Devils have improved to a lesser extent than arch-rivals Man City, and with the title only being decided on goal difference last season, every extra point counts.
Reading 0 pts
After failing to win any of their opening 10 games, Reading are so far performing as well as Bolton last season. However, considering that Bolton weren't relegated until the final day of last season and having spent just £4m over the summer - much less than the other promoted clubs - the Royals are on course to give themselves a chance of survival.
Sunderland 0 pts
With only one win in their opening 10 games, many feel Sunderland could become embroiled in a relegation battle this season. But while they have taken fewer points in four of their games, their improvement in four others mean the Black Cats are currently set for just another season of mid-table mediocrity.
Aston Villa -1 pts
New manager Paul Lambert has so far been unable to produce better performances from the team than his predecessor Alex McLeish last season. Although it should be noted that Lambert has revitalised the side with a host of young new signings, given how close the club were to relegation last season, there is little room for error.
Norwich -2 pts
After their opening seven games, Norwich had worryingly taken six fewer points than last season. But wins against Arsenal and Stoke and a draw against Aston Villa in recent games mean that the Canaries are performing only slightly worse under new manager Chris Hughton than under his predecessor Paul Lambert.
Tottenham -3 pts
Despite a historic win at Old Trafford, Tottenham are currently doing worse than last season, having notably been unable to repeat home wins against West Brom and Wigan. But with new manager Andre Villas-Boas implementing his ideas and a net spend of minus £9.5m over the summer, it could be argued that a slight drop in performance is to be expected.
Arsenal -5 pts
Unable to repeat wins against Sunderland and Norwich, Arsenal are performing worse than last season, with their only improvement so far earning a draw away at Manchester City. But having brought in more money than they spent once again over the summer, it is perhaps unsurprising that they're not doing as well as their big-spending rivals.
Wigan -5 pts
After taking 11 points from their opening 11 games compared to just 5 points from their opening games last season, it seems at first glance that Wigan are performing better than last season. However, 16 of their 43 points last season were taken in these 11 fixtures, and their win against Tottenham is actually the only game in which they have improved.
Newcastle -6 pts
After an outstanding fifth-placed finish last season, it is perhaps unfair to make Newcastle the victims of their own success when assessing them this season. But after failing to repeat five of last season's wins so far and with a Europa League campaign to also contend with, it currently seems unlikely that they will reach the same heights this season.
QPR -6 pts
Failing to repeat wins against Swansea, Chelsea and Stoke has seen QPR take fewer points from their opening 11 fixtures than last season. With the club having survived only on the final day of last season, a lack of improvement soon will embroil the Hoops in yet another relegation battle.
Southampton -8 pts
Under pressure after spending £27m over the summer, Southampton are currently performing worse than Blackburn last season. While a cruel assignment of opening fixtures seems to have killed the momentum of promotion, manager Nigel Adkins needs to inspire his double promotion-winning side soon to have a chance of survival.
Liverpool -9 pts
New manager Brendan Rodgers has so far been unable to improve Liverpool's fortunes this season. But with the manager implementing a new football philosophy, the returning demands of European football and the introduction of promising, yet inexperienced young players such as Raheem Sterling, it can be argued that positive results will take time.