Everton's Sylvain Distin says spell out of team has fuelled his passion
Everton's Sylvain Distin says his spell on the sidelines has fuelled his passions for playing in the Premier League.
Last Updated: 03/12/12 8:03pm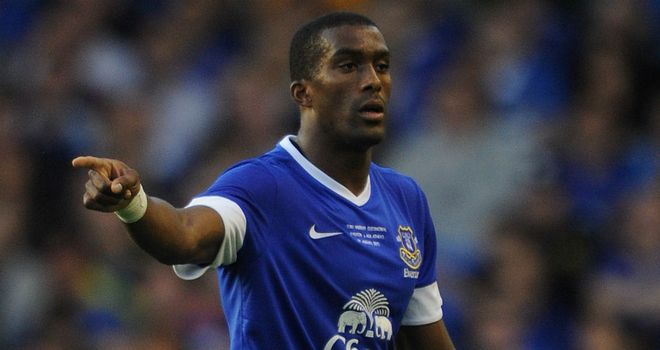 The 35-year-old centre-back is out of contract this summer and although manager David Moyes wants to offer the Frenchman a new deal, negotiations are unlikely to begin until the New Year.
Distin is desperate for more time on the pitch, having started the first four league matches before dropping in and out of the team until regaining his place in the last three fixtures.
But despite enduring a frustrating period, Distin said: "Being on the bench, I didn't like it and I think it's my longest spell on the bench since I started football.
I did hate it but I did try to take the positives out of it and it made me realise that I'm not ready to stop at all.
"I'm not ready to be on the bench at all and that's a good thing. I'm working hard every day not to be on the bench, but we have four great centre-backs.
"We have an England international [Phil Jagielka], a Dutch international who played in the final of the World Cup [John Heitinga] and then you have me and Shane Duffy.
"It's tough competition but it is healthy competition. We enjoy playing with each other and there is no tension between us.
"This can only make us better and we know that we have to perform week in and week out, otherwise there will be another two players who will be picked.
"The reason I am in England is to play against the best strikers and I would rather have those kind of challenges every week rather than play in a league where I don't enjoy my football.
"I know it is difficult but that is what makes football magic for me."