McArdle out to defy odds again
Rory McArdle's friends are all banking on the Bradford defender scoring at Wembley for a second time this weekend.
Last Updated: 20/02/13 11:22am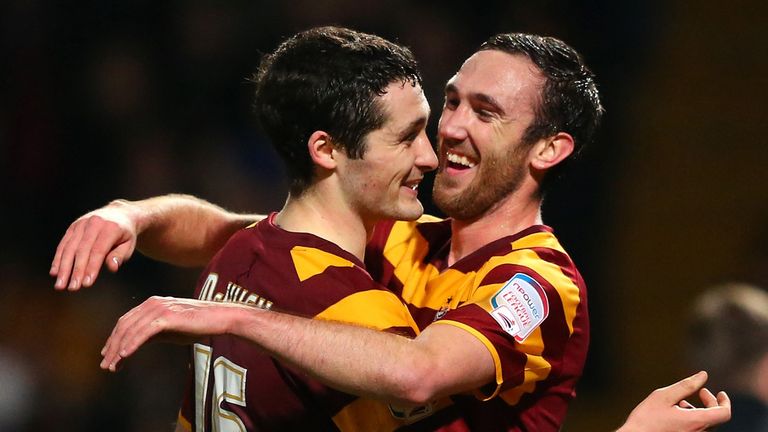 Rory McArdle's friends are all banking on the Bradford defender scoring at Wembley for a second time this weekend.
The 25-year-old centre-half, who is hoping to be part of a Bantams side looking to see off Swansea and complete their Capital One Cup fairytale, headed home the opening goal in the npower League Two play-off final in 2008 and his friends cashed in on the bookmakers' outsider.
McArdle was on loan from hometown club Sheffield Wednesday at the time and is daring to dream of an unlikely double after helping Bradford to become the first club from the bottom tier to reach Wembley in a major English cup final.
The 6ft 1in Northern Ireland international saves the few goals he does score for the big occasion.
His flying header for the Bantams in the first leg of their Capital One Cup semi-final win over Aston Villa turned the tie in Bradford's favour midway through the second half and Phil Parkinson's side never looked back.
"My goal for Rochdale at Wembley is an experience I've got that will help me on Sunday," McArdle said.
"But it will be a sell-out this time and I don't think the atmosphere back then will compare.
"The goal I got against Villa is on a par with the one at Wembley. Both were in massives games and both were on TV which makes it special.
"But to score at the end in the Villa game, I thought the stadium roof was going to come off.
"To make it 2-0, it took the sting out of Villa completely and set us up nicely and Carl (McHugh) got the third goal which gave us a nice cushion for the second leg.
"Both goals were massive and I'll remember them for the rest of my life. Hopefully there's another one to come.
"My mates will all be having a little punt on it again. They all had me down to score first in the play-off final and I think I was 33-1, so they made a few quid out of that.
"If it happens again, it happens. A ratio of two in two at Wembley, I'll settle for that."
McArdle, who joined Bradford on a free transfer in the summer following his release from Aberdeen, could not contain his excitement as Parkinson's squad gathered at Valley Parade for their cup final press conference.
"I feel like a kid again to be honest, he said. "It's something you can only dream of really. It's still early in the week, but as you can see, stuff like this doesn't happen every day.
"It's unbelievable it really is and credit to the lads. We've merited our place in the final. I don't think you could have got this far purely on luck without having a bit of quality as well, so everyone's buzzing."
Bradford's history-makers have overcome Notts County, Watford, Burton, Wigan, Arsenal and Aston Villa to stand within one game of a place in Europe and McArdle insists they deserve their day in the sun.
"I'll be the first to admit we've had a bit of luck along the way," he said. "But a club like ours playing against the likes of Wigan, Arsenal and Villa, we need it.
"But we've also shown the quality we've got. There are good players here."
Promotion was the sole aim when Parkinson assembled his new-look squad for the sum of £7,500 in the summer, but City face an uphill task of closing the 11-point gap on the top three, while they are seven adrift of the play-offs with 15 league games remaining.
McArdle accepts there has been a dip in form in the league, but refuses to rule out a promotion and Capital One Cup double.
"There's still a lot of points to be played for and if you string a few results together you soon shoot up the table," he said. "And with the squad we've got there's no reason why we can't put another good run together."
Asked whether he would swap the unprecedented cup run for guaranteed promotion, McArdle said: "That is a difficult one. I was speaking to a friend of mine and he said if he was a footballer he would have taken the cup final, but I said to him winning the cup final or playing in the cup final?
"He couldn't answer that, so I don't know. At the start of the season you've probably got a better chance of getting promotion than winning the Capital One Cup, so a lot of people would go for the cup and then you've got Europe as well.
"Financially for the club that would be massive too, but I really don't know."