Hull City boss Steve Bruce reveals Sone Aluko surgery fears
Hull City manager Steve Bruce fears Sone Aluko may have to undergo surgery in order to overcome an Achilles injury.
Last Updated: 20/02/13 1:42pm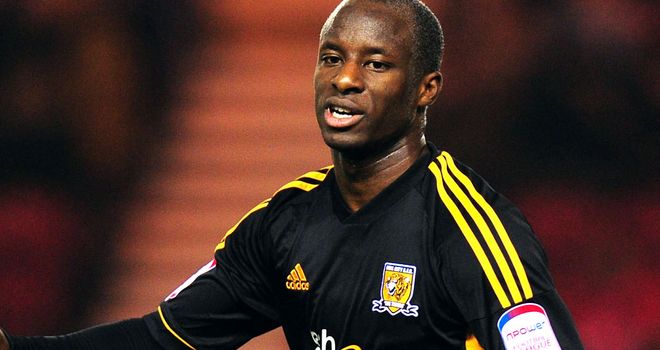 The former Rangers forward has been out since mid-January and had initially been expected to return to the squad at the end of the month.
But Aluko struggled when he joined in a training session on Monday and Bruce has ordered him to rest for a further two weeks before they decide what further action to take.
"It's not looking good unfortunately, it looks as though he will need an operation," Bruce told the club's official website.
"It's a huge blow and I felt physically sick on Monday when we found out. That's not just for the team, but for Sone too because he's had a wonderful start to his career here.
"We are going to give him a couple of weeks off and totally switch him off and see if that has any impact. I can't see that being the case, but you never know.
"It's a huge blow, but he'll be back and it's amazing what they can do these days. We'll see over the next few days."
Meanwhile, Paul McShane will be out for at least a fortnight after injuring his hamstring in last weekend's win against Charlton, although Bruce insists Hull can cope.
"That's the beauty of a squad," added Bruce. "Paul has been terrific over 19 or 20 games, Abdoulaye Faye isn't playing at the moment but the three at the back against Blackburn on Tuesday night were absolutely fantastic.
"That just goes to show that there is a little bit of strength in depth, which you need.
"We were without four or five key players on Tuesday night and we still managed to put on a good performance."