Thompson wants one last victory
Bradford City midfielder Garry Thompson will not be overawed in the League Cup final against odds-on favourites Swansea this weekend.
Last Updated: 20/02/13 5:28pm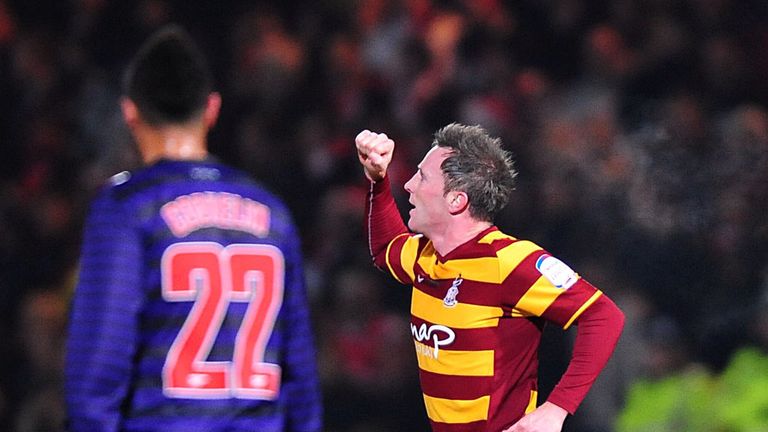 Bradford City midfielder Garry Thompson will not be overawed in the League Cup final against odds-on favourites Swansea this weekend.
Phil Parkinson's League Two side have already been labelled the biggest giant-killers of them all after a fairytale journey that has led them to Wembley and into the record books.
Victories over Notts County, Watford, Burton, Wigan and Arsenal, plus a two-legged semi-final triumph over Aston Villa, have seen them become the first club from the bottom tier to reach a major cup final at Wembley.
Cup fever has gripped the city with Bantams fans camping out overnight in the snow last week to snap-up the last remaining tickets - 32,000 will head to Wembley - but Thompson is taking it all in his stride.
The 32-year-old has the benefit of two previous trips to Wembley with former clubs Morecambe, in the Conference play-off final in 2007, and Scunthorpe, in the League One play-off final two years later.
"Swansea are an excellent passing side," said Thompson. "I think they've been compared to Arsenal and obviously having watched Match of the Day and you see some of the goals they score, they are a good footballing team.
"But it's 11 men versus 11 men and that's how we look at it.
"We won't be scared of what they can do, it's all about what we do on the day.
"We don't have to say anything about who we've beaten to get here to be honest. Everyone knows what we've done.
"When you beat Wigan at their place and beat a team like Arsenal and then you go through against Aston Villa over two legs, what bigger hurdle is there to get over?
"It will be amazing. We just need to make sure nerves don't get the better of us and we go out there and play our football and stay in the game as long as possible.
"There's no reason why we can't go there and win."
Thompson, who was drafted in by boss Parkinson last summer along with nine other players with the sole aim of winning promotion, left his own indelible mark on the competition in the penalty shootout win over Arsenal in the quarter-final.
The midfielder slammed home a volley in the 16th minute from which the Gunners never recovered.
"It's one of my best moments I think," said Thompson, who also scored in Morecambe's Conference play-off final win against Exeter.
"The strength of the Arsenal team on the night was top-end Premier League class and to pop up with a goal was unbelievable.
"It's my favourite goal that I've ever scored and the most important."
Unlike some of his team-mates though, Thompson would swap it all for guaranteed promotion.
"It will be the pinnacle of my career, definitely.
"I've been involved in play-off finals before and luckily enough I've come away with a win, but to play in a national cup final will be something that's unheard of for a League Two club.
"And for me personally, coming from Kendal. Not many people from Kendal get to play in a cup final at Wembley.
"It's going to be amazing and we aim to soak up all the attention that comes with it and hopefully we can calm ourselves down come four o'clock on Sunday.
"We're going to have to take more than a couple of deep breaths to get back in the zone and go out and play.
"Our nerves are going to be the biggest challenge.
"But I think I probably would swap it all (for promotion), yes. That's what we set out to achieve at the start of the season, promotion was the aim.
"The cup run has been absolutely brilliant for the players and Bradford's fans, to go and have their day out.
"But that's all it is. It's a day out and we want to spend the rest of next season in League One."