West Ham midfielder Matthew Taylor targets Chelsea clash after injury
West Ham midfielder Matthew Taylor is hoping to be available for the clash with Chelsea later this month.
Last Updated: 06/03/13 3:51pm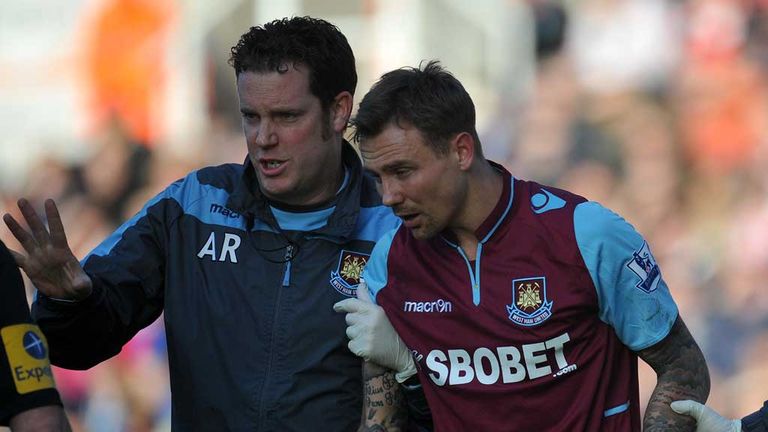 The 31-year-old was caught in the face by Peter Crouch's boot during the first half of the 1-0 win at the Britannia Stadium as the striker attempted an overhead kick.
Taylor was treated quickly by medical staff on the pitch and was able to travel back home with the West Ham club doctor before being assessed again after a period of rest.
"I am not too bad. My head is fine and I am feeling a lot better," Taylor said.
"It is the first time I have been knocked out in my career, or in my life for that matter, that I can recall. I don't remember walking off or anything, which was a bit scary.
"But it was just one of those things and Crouchy clearly didn't mean to do it. There was no malice on his behalf."
The Hammers are not in action this weekend after their Premier League clash with Manchester United was postponed due to the FA Cup quarter-finals, and they next play Chelsea at Stamford Bridge on Sunday March 17.
"I feel fine and it is just a protocol to follow now to get back training," added Taylor.
"Obviously with no game this weekend, I can take my time and get fit to return to training next week, all things being well."