Steaua Bucharest keeper Ciprian Tatarusanu unfazed about facing Chelsea
Steaua Bucharest goalkeeper Ciprian Tatarusanu is unfazed at the prospect of facing Champions League holders Chelsea.
Last Updated: 07/03/13 5:04pm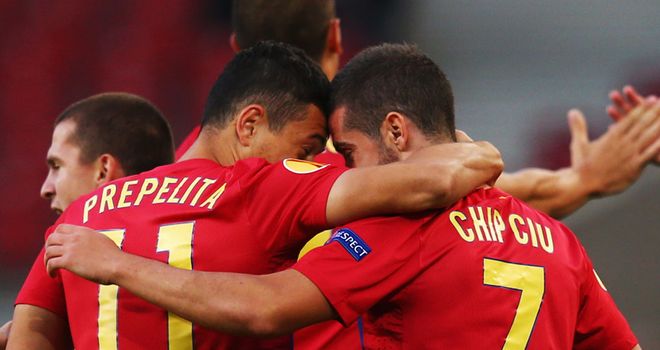 Steaua host Chelsea on Thursday in the Europa League last-16 first leg at the National Arena in Bucharest after the Blues narrowly negotiated their round-of-32 clash with Sparta Prague and the Romanians claimed a penalty shootout victory over Ajax.
Goalkeeper Ciprian Tatarusanu, the penalty shootout hero, said on www.uefa.com: "Chelsea are a better team [than Ajax] - they are the UEFA Champions League holders so they are obviously the stronger team.
"Sure, it will be much harder than a game against a top Romanian side - we are talking about 'Europe's queen' - and I have no doubt I will have much more work to do than against a 'normal' European team.
"As we proved in the two games against Ajax, we can be a match for anyone, no matter who they are.
"Before every game - regardless of the competition - I don't feel any pressure on me. All I focus on are positive thoughts, which help me take a serious and professional approach to each match, and be focused for every second."
Like Chelsea, Steaua have one European Cup to their name, having won the continent's most prestigious tournament in 1986.
This season is the first time they have reached the last 16 in Europe since 2005/06, when Steve McClaren's Middlesbrough knocked them out in the semi-finals of the UEFA Cup.
Two Romanians have played for Chelsea to mixed degrees of success.
Former Steaua right-back Dan Petrescu won the FA Cup, League Cup and UEFA Cup Winners Cup during five years at Stamford Bridge, while striker Adrian Mutu's short spell ended in disgrace when he tested positive for cocaine.
While not experiencing the same type of scandal since, the Blues have often been portrayed as a dysfunctional unit in recent times and this season in particular.
Laurentiu Reghencampf's Steaua side are eight points clear at the top of the Romanian league and their only loss in their last seven was the first leg with Ajax, at the Amsterdam Arena where the Europa League final will be held in May.
Tatarusanu believes the sum of Steaua's parts can perform better than the Blues' undoubtedly talented individuals.
"Chelsea have more skilful individuals but we are a very solid group," the 27-year-old said.
"Chelsea are the favourites but we all know that football is unpredictable and anything is possible."