Northern Ireland give Kyle Lafferty and Chris Baird time off
Northern Ireland boss Michael O'Neill is to allow suspended duo Kyle Lafferty and Chris Baird time away from the squad.
Last Updated: 20/03/13 6:50pm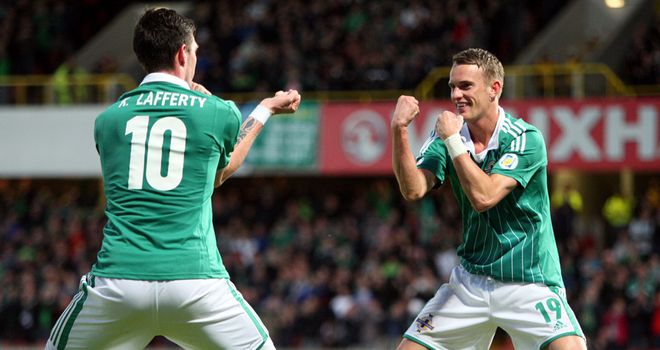 Lafferty and Baird are both banned for the visit of Russia on Friday but have been named in the 26-man squad for the game against Israel four days later.
The pair will be in Belfast for the next few days but O'Neill does not intend to include them in full training until after the first game.
"With both players there is no real benefit to having them (training) with us now, so we'll look to bring them in later in the week when the focus turns to the Israel game," said O'Neill.
"That gives the likes of Bairdy and Kyle the chance to see family back here in Belfast. They're at the stage of the season where two days off and away from it won't harm them in any way or affect them fitness-wise at all.
"It's always difficult to be involved when you know you can't play: it's not great for them and it's not ideal for the team either."
O'Neill also welcomed Sammy Clingan back into the squad after the midfielder was left out of recent squads because of an unsettled spell at club level.
Clingan left Coventry at the start of the season and spent time at Doncaster before ending up in Scotland with with current club Kilmarnock.
"Sammy has had a difficult six or seven months and the club situation has been a bit up and down," admitted O'Neill.
"I encouraged him in coming to Scotland, that it would be a good option to consider and I've seen him three times now. I've been impressed and he's getting better and better.
"It's great to have Sammy back in the squad because he's an important player for us."