Jose Mourinho describes Galatasaray's Didier Drogba as "out of this world"
Jose Mourinho has denied claims he was dismissive of Didier Drogba's current form after watching Galatasaray.
Last Updated: 27/03/13 2:28pm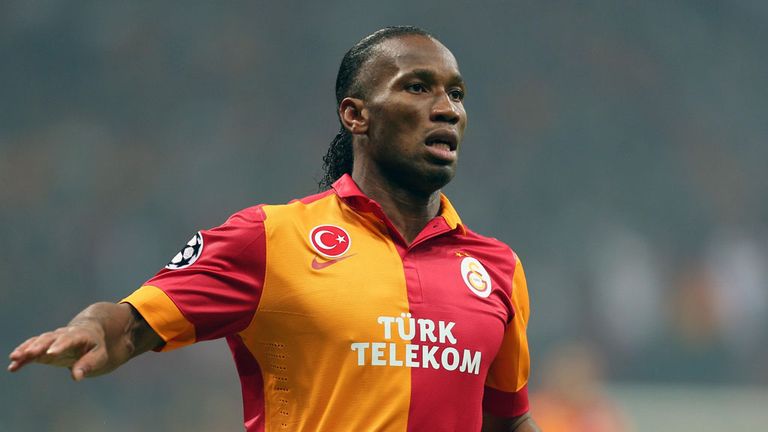 Reports in Turkey that were picked up in the Spanish media suggested Mourinho was far from impressed with Drogba after seeing his performance in Galatasaray's victory at Kayserispor on Sunday.
However, Mourinho has moved to reject those claims, describing his former Chelsea forward, who joined Gala in January from Chinese side Shanghai Shenhua, as "out of this world".
The Portuguese said in an interview with Real Madrid TV: "You have given me the chance to say that these types of things you see in the press don't bother me, because Drogba knows who I am and what I feel in my heart for him, but maybe people could think they were true.
"Picture this: I go to Turkey, I'm working, I watch the match, I head off before the end and then there are statements from me saying bad things about Drogba.
"I'm not going to say that he is my favourite player because I have had a lot of truly special players, but if I had to choose one I might go for Didier.
"As a player he is out of this world. I would like to have him by my side, so just imagine.
"It's impossible that I would talk bad about Drogba.
"There is no problem because he knows that the last thing I would do is to say anything negative about my relationship with him."
Galatasaray defeated Kayserispor 3-1 with early goals from Wesley Sneijder and Burak Yilmaz (two) to maintain their four-point lead at the top of the Super Lig.
Mourinho may not have stayed until the end of the match but he already knows enough about the Turkish giants to be wary of the threat they pose to Madrid in next month's Champions League quarter-finals.
"I found what I had expected - a team of people who know the Champions League very well and which has two players who have won the Champions League, Drogba and (Wesley) Sneijder, people who have played for the best teams, like (Emmanuel) Eboue for Arsenal, Felipe Melo for Juventus, (Albert) Riera for Liverpool and (Fernando) Muslera for Lazio.
"They have a lot of experience, a coach (Fatih Terim) who is the best ever in Turkey, and who has also worked in Italy, and a level of support that other teams don't have.
"We thought that Borussia Dortmund and Manchester United were tough, but this is tough.
"They played 700 kilometres from Istanbul and there were 15,000 Galatasaray fans."
The first leg of the quarter-final will be played in Madrid, and Mourinho is hoping his side will have a lead to protect to take to Turkey for the return meeting.
"It will be tough but we need to try to get something positive from the first match, something we didn't manage against Manchester United. We have to make sure we go there with a small advantage," he said.