Carayol tuned in
Graeme Bailey catches up with Muzzy Carayol, who has enjoyed his first season on Teesside.
Last Updated: 27/05/13 11:08am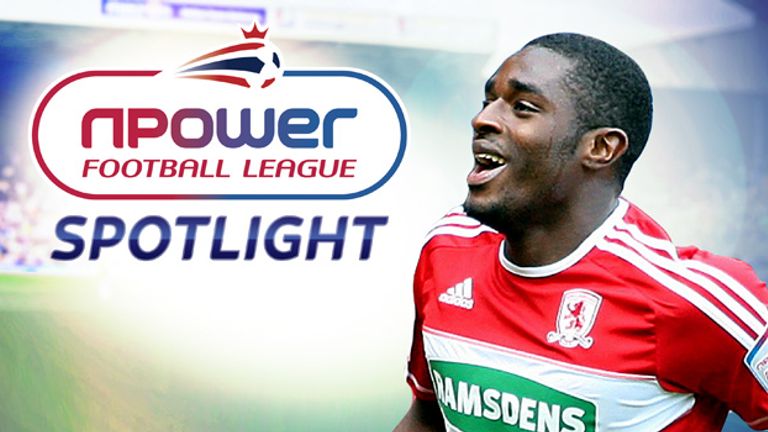 The 2012/13 campaign is about to enter the final straight, with promotion pushes and relegation battles now in full swing.
Here at Sky Sports, we continue to take you to the very heart of the Football League, with our Spotlight features intended to give you a greater insight into the clubs and players that keep us on the edge of our seats.
We are hoping to bring you the views and thoughts of a representative from each of the 72 teams over the course of the season, with those involved asked to give their take on the division they compete in, the club that pays their wages and those we should all be keeping an eye on.
Next in our hot seat is Middlesbrough's Muzzy Carayol, with the Boro star discussing their first campaign in the Championship with Graeme Bailey.
Let's start literally from the beginning Muzzy, born in the Gambia - when did you come to England?
I came to England aged about six. I was born in Gambia and I moved to France when I was one. My mum was doing her Masters in French, and my first spoken language was French before we came. Then it was London and I have lived there my whole life in Peckham.
How did your football life begin?
I was playing locally at first and at secondary school I signed for Gillingham, and then I went into Sunday League Football and then I went to Swindon. It was just a random trial and they signed me within 45 minutes of seeing me in a trial game when I was 16 about to turn 17.
And at Swindon you met Paul Ince?
Yeah, Paul Ince was a player coach at Swindon and when he went to Macclesfield he took me there, but I only trained with them and was about to sign for them in the summer but then Paul went to MK Dons and he took me there, so that was my first professional contract.
So good job Middlesbrough signed you otherwise you would be Blackpool bound?
Yeah, a few of my friends have joked about that!
So you end up settling at Torquay?
That was my longest stint I had anywhere, two years and got promoted out of the Conference and had my first season in the league, and I ended up doing well and got offered a new deal, but it was quite far from home and I fancied a change of scenery so went to Lincoln.
So you moved on to Lincoln, but you were soon on the move again...
I enjoyed my time at Lincoln but I could not stay fit for some reason, just a lot of hamstrings and then they were relegated so they had to sell me to Bristol Rovers and obviously I linked up with Paul Buckle again and so that was good. And I enjoyed my time with the club especially with Mark McGhee - a lot of people wondered why I was just playing well for them, but they gave me so much confidence to play - they almost built a team around me, which brings pressure but also makes you feel wanted and as an attacker it gives you confidence and that was massive for me.
So after really doing your stuff at Rovers, the big interest finally came?
In the January I was on the verge of going to Barnsley, but Bristol Rovers turned it down as the deal was not right - at the time I was devastated as I thought a move might not come again, but Mark McGhee sat me down, we were struggling in the league and he said he needed me to help - obviously I would have liked to have played in the Championship but he said if I did well for him he would not stand in my way in the end I did well for him and he ended up letting me go.
So you get your big move in the summer, why Middlesbrough?
I had a few offers, but from day one I said to my agent I wanted to go to Middlesbrough - because of the way they play, they play my type of football. I looked at the other clubs but I always wanted to go, the gaffer personally came and watched me and that also made my mind up. It was against Dagenham , and it wasn't the best of games as we got spanked 4-0 but I think I did okay. It was all flattering and they ended up coming up with a deal, it took longer than expected, about three months in the end and I was grateful I was given that chance to play in the Championship.
Fans took to you, injury must have been hard?
It is hard. I had worked hard all pre-season to get fit and it was the hardest I had worked at my game, so for it to get taken away at that moment where I am involved and getting to match fitness - I guess it is give and take, and you have to take the bad with the good. But I got to grips and just concentrated on the comeback. I have never had an injury, but the gaffer and medical team knew that and they kept my mind right, and gave me time off to go home when I needed it and that helped in not getting frustrated but thank God I have had no setbacks and I can get through to the end of the season and be raring to go next season.
After a great start, things have threatened to come off the rails, is it just a matter of digging in?
All the boys know the challenge, we are going through a tough time at the moment and a lot of questions are being asked but sometimes in football you need lady luck and we are missing that at the moment, every little mistake we seem to do is getting punished and it is just one of those times at the moment and it won't last forever. But we would like it to change as soon as possible as we still desperately want a play-off place.
You have taken to Championship life really well, you must look at players like Wilfried Zaha and take confidence from what you can achieve from this level?
You have got to pay respect to Wilf, at such a young age he has been tearing up the league for two years and so it is congrats to him on his move and he has done really well - we played against them the other week and he was immense. I know Palace well as I am really close with Yannick [Bolasie] and we are always competing too and we currently have a scoring bet at the moment about who is going to get the most goals - and we are both on three, so it is getting quite interesting. I am confident I will win that one.
So starting where we began this conversation, Gambia. Are you keen on playing for them internationally?
I have thought about it and spoken to my parents and I am just waiting for the right time. If I had been playing this whole season and been fit it would probably have been a good time to play in the next few qualifiers but I have just been out for five months so it is touch and go and I am more conscious about doing well for Middlesbrough and staying fit, so at this moment in time it is not something I am looking at.