Premier League: Sylvain Marveaux says Newcastle are not safe
Sylvain Marveaux insists that Newcastle are still not safe despite moving five points clear of trouble at the weekend.
Last Updated: 09/04/13 10:33am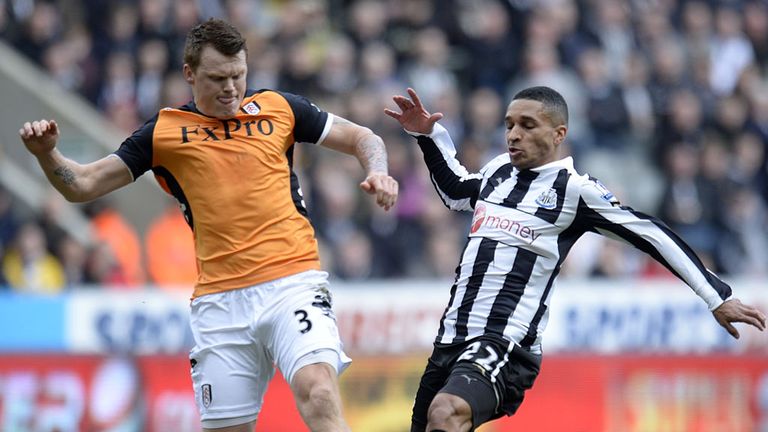 The Magpies claimed a last-gasp victory over Fulham, and many believe they are no longer in the relegation mix.
But speaking ahead of a crucial week for the club which includes a local derby with Sunderland and the second leg of their Euoropa League quarter-final with Benfica, Marveaux insists the club cannot forget about the relegation dogfight yet.
"I don't think we're safe yet," he told the Northern Echo. "Obviously it was important to get the three points because we now have a difficult game on Thursday, and then the most important game on Sunday.
"It was good to get three points to have more confidence to be able to play with less stress and pressure, but we still have to carry on winning, especially at the weekend.
"We know how important the (Sunderland) game is for the club and the fans. The situation puts even more importance on this game.
"When we play at home, we play to win, it doesn't matter what team we play. But on Sunday it will be a game we cannot lose, for the club, for the fans and to be able to finish the season with less pressure."
Marveaux says Newcastle can make it past Benfica, despite losing the first leg 3-1 - but admits it will not be easy.
"We have two goals to score and we can't concede any," he said.
"We just have to get ourselves ready because everyone is pretty tired after the last two games, but hopefully we'll be able to score quickly and that will make it a different game.
"We'll be trying to get an early goal because that could be important. We have the quality to beat them, although they were a very good team when we played them away. I think they can score as well so we will have to be solid."