Premier League: Norwich star Bradley Johnson believes they will beat the drop
Bradley Johnson believes Norwich will stay up despite having a difficult run in to the end of the season.
Last Updated: 13/04/13 2:26pm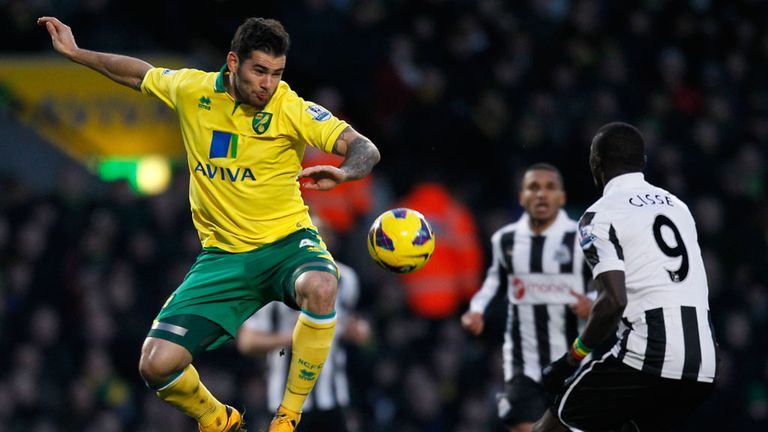 Norwich have slipped to 14th in the table and are only four points above the relegation zone and Johnson admits the players know the importance of every game.
"We knew it was going to be tough from the beginning of the season," Johnson told Sky Sports.
"The Premier League is the hardest in the country and we knew it was going to be hard from the get go and we would love to have been safe now but we aren't and now every game we go into is a cup final."
Chris Hughton's side travel to Arsenal this Saturday before three matches against fellow strugglers Reading, Stoke and Aston Villa that could define their season.
Their last match at Carrow Road is against West Brom before they end the season with an away trip to Manchester City.
Run-in
Despite their tough-looking run-in, Johnson feels that Norwich are capable of getting something from every game, starting at the Emirates this weekend.
"No one expects us to go to clubs like Arsenal and Man Utd and win, but we've beaten both of them at home already this season so who says we can't do it away from home?" he said.
"We know it will be a hard game. If we get anything out of it, it will be a bonus.
"We work hard for each other and we got into Arsenal's faces at home. We upset their rhythm.
"We know it will be tough at the Emirates because they're on a good run of form, but if we go there and play like we did at Carrow Road, why can't we get a result there?"
Johnson is looking forward to a potential clash with Jack Wilshere, who could return from injury on Saturday.
"You want to play against the best and Jack is a terrific player, but on the day he's just another player in front of me who I want to beat," he said.
"I won't be fazed by how good he is, I'll try my best against him and hopefully we'll get the win."