Copa del Rey: Atletico Madrid's Diego Godin confident ahead of final
Diego Godin has scoffed at talk Atletico Madrid have no chance of overcoming Real Madrid in the Copa del Rey final.
Last Updated: 15/05/13 2:30pm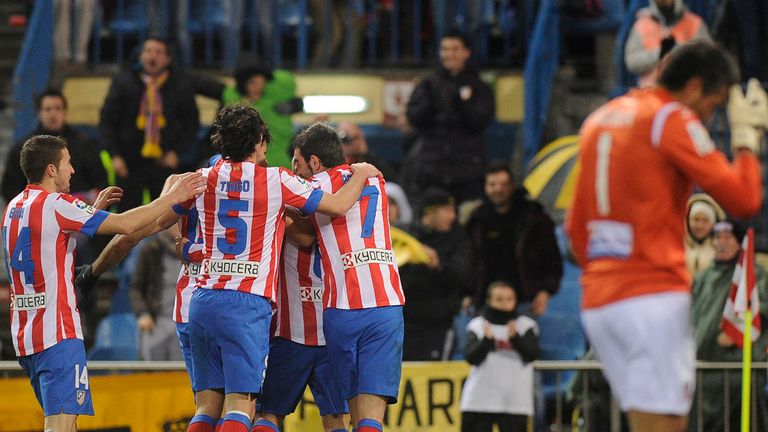 Atletico Madrid defender Diego Godin has scoffed at suggestions his side have virtually no chance of overcoming Real Madrid in Friday's Copa del Rey final, although he concedes the Rojiblancos are underdogs.
Atletico have not beaten their arch rivals in any competition for 14 years and Real, wounded after losing their Primera Division title to Barcelona and once again failing to reach the Champions League final, are considered firm favourites to continue that dominance and lift their 19th cup crown.
Godin appreciates Real, whose Bernabeu ground stages Friday's final, probably hold a slight advantage but believes his side has got as much chance as Jose Mourinho's men of getting their hands on the cup.
Asked if he agreed with claims Atletico only have a small chance to win, Godin said: "No, I don't agree with that at all. In a one-off game, the two teams go in with the same possibilities. Of course Madrid, on paper, are the favourites, but at the outset, the chances of both teams are 50-50."
Even Atletico's miserable record against their neighbours - Real have won 13 of the last 14 meetings between the two as well as being unbeaten in this fixture since 1999 - is not dampening Godin's spirit.
"We aren't looking back. The statistics are clear but we're a different squad, we're in good form and we have high hopes of going there and winning, the same as Madrid do."
Another thing the Uruguay international is not concerning himself with is the off-field issues at Real surrounding Mourinho, who looks set to leave the Bernabeu this summer.
The outspoken Portuguese has also been jeered by fans in recent home matches and caused controversy with his criticism of club captain Iker Casillas and centre-back Pepe during recent press conferences.
Godin said: "I'm not worried about them. The only thing I'm concerned about is the final. For how ever many problems they have, they all know how to go out on the pitch and play."