Reading striker Jason Roberts hits out at FA's new rules to combat racism
Reading striker Jason Roberts believes players were not consulted properly over the FA's new rules to combat racism.
Last Updated: 17/05/13 4:51pm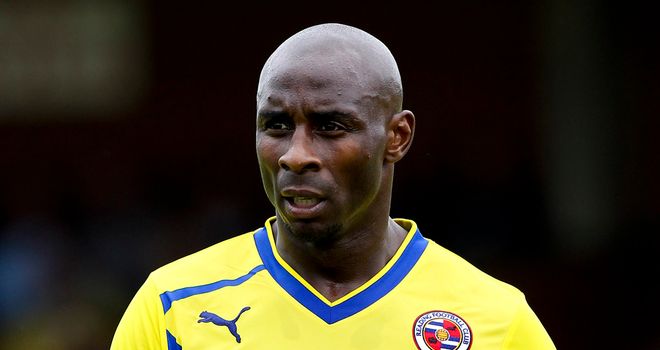 UEFA recently set a 10-game sanction for similar offences and Roberts feels the FA should have taken a similar stance.
Roberts was also critical of the FA and football's anti-racism group Kick It Out over the John Terry racism case and he insisted there had been a lack of leadership at the governing body.
"While Uefa propose a 10 match ban for racism, the FA decides on 5! Who do they consult on these decision? Certainly not the players," he said on Twitter.
"The last 18 months regarding equality at the FA has consisted of bad decisions, lack of will, lack of consultation and lack of leadership!
"Poor decisions on high profile cases, a weak "92" point plan and now 5 games, confirms, it is left to the players concerned to effect change."
But FA chairman David Bernstein has defended the organisation's decision not to follow UEFA's example, saying the five-game ban had been agreed by all sections of the English game, including Kick It Out.
"What we have come to is as a result of considerable consultation with all the major bodies in English football, including the Premier League, Football League, the PFA, the LMA and Kick It Out," he said.
"It was a wide consultation on not just the sanctions element, but the whole programme which has scores of recommendations.
"From our point of view (a 10-match ban) has no subtlety to it. It should have subtlety to it. Any racism is unacceptable but there are different levels of offence.
"It's also a timing issue. We have been through an extensive process and have to get it approved through English football. (UEFA's advice) came in right at the end of the process when we have spent months getting a consensus.
"But if European football says the line is in the wrong place then we may have to re-evaluate that."
The FA has introduced the five-game sanction as the "entry level" punishment for the "least serious" discriminatory offences, including racist and homophobic abuse, although longer bans can be levied for higher level offences.
The new rules follow a review of sanctions following high-profile cases which saw Chelsea captain Terry banned for four matches and Liverpool striker Luis Suarez for eight games for racist abuse on the field of play.