Bayern Munich winger Arjen Robben has backed Jose Mourinho to succeed at Chelsea
Bayern Munich winger Arjen Robben has backed Jose Mourinho to bring silverware back to Chelsea, should he return.
Last Updated: 03/06/13 2:44pm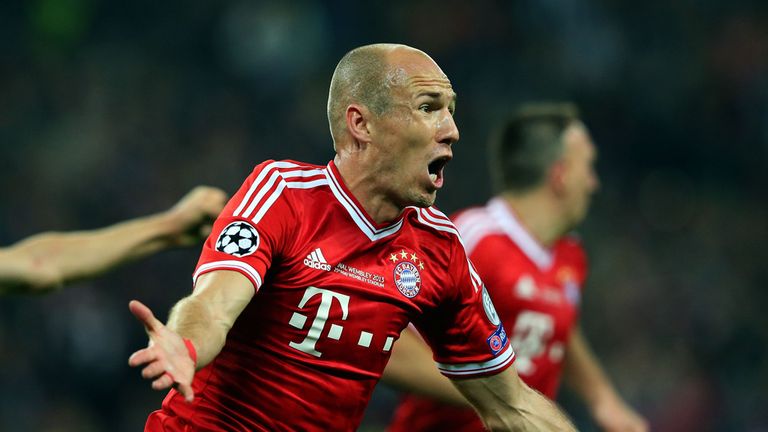 The 50-year old took charge of his final game at Real Madrid in Saturday's 4-2 win over Osasuna and it is anticipated he will make a Premier League comeback after a six-year absence.
Robben won two league titles at Chelsea and the Dutchman thinks that Mourinho can replicate that success should he go back.
"It's a big move for Chelsea with Jose coming back but I know it is one the fans will welcome," he told The Sunday People.
"He had very successful years at Chelsea and he can have them again.
"The thing about Jose is that he will win at any cost; he doesn't care how, he just wants to win.
"I've not always been supportive of the style of football he plays, but he is a winner who has achieved great success. I am sure that with some big signings from the owner that Jose and Chelsea can rule England again."
His former team-mate Frank Lampard sealed a new contract at Chelsea last month and Robben believes it could be down to Mourinho's potential homecoming.
"It is no surprise to me that Frank is now staying. It cannot be for football reasons that he was going because he is still one of the best. It must have been a personal thing with the old coach," he said.
"As soon as it became clear Jose would return, there was never any chance Frank would go because there is such respect and a friendship between the two of them.
"He sent me a text after we won the final, that is the sort of classy guy Frank is."
The Dutch international helped Bayern to claim a historic treble this season and he is backing the European champions to maintain their success.
"For us at Bayern it's now about going on a period of domination," said Robben.
"For the past five years it has been all about Barcelona and obviously this Barcelona team will go down in history. Now there is everything set up at Chelsea to not just rule Germany, but also Europe.
"We have just lost a great coach, but now we have another great coach coming in who has experience of winning domestic and European trophies.
"With the players we already have, the players we have coming in and looking at our ages, this Bayern team can rule for the next five years."