Jordan Henderson says England Under-21s must win their next game against Norway
Jordan Henderson said that England can't afford to let the 1-0 defeat to Italy disrupt their progress from the group.
Last Updated: 05/06/13 11:09pm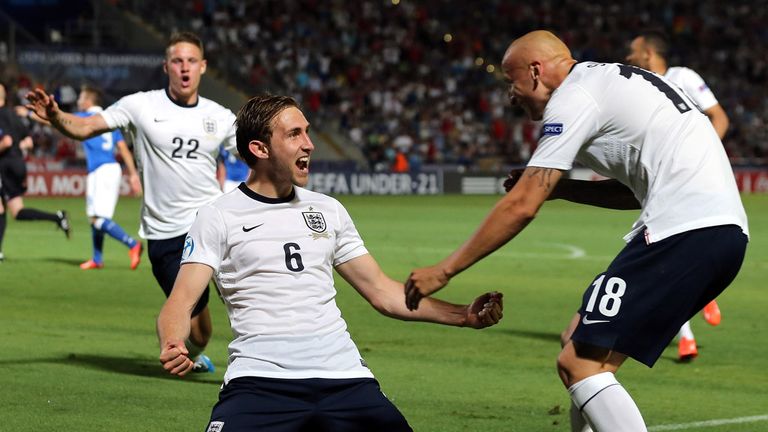 A Lorenzo Insigne free-kick with ten minutes to play was enough to fire the Italians to the top of Group A but Henderson thinks England will respond against Norway on Saturday.
Speaking to Sky Sports, Henderson said: "It was a disappointing game in the end and I thought we could have played a lot better.
"First twenty minutes we tried to press them but it wasn't really working and it might have been a different game if our goal was allowed."
England thought they had taken the lead early in the second half through Craig Dawson only for it to be chalked off for an earlier foul by Steven Caulker. It was a strange situation and one that Henderson struggled to understand afterwards.
Henderson added: "I don't understand why it wasn't given at all, none of the players really understood what was going on and I can't explain it really. It was very confusing.
"I thought the referee was pointing at the kick-off spot so everyone was celebrating. It was a good few minutes until they took a free-kick and everyone was a little bit baffled to be honest, but that's football.
"We've got another two games to go so we need to be ready for that. We can't get too disheartened, we've got to pick ourselves up and fight back come the next match.
"There are two games left and we want to win both of them to get out of the group. It doesn't really matter how you do it. We'll be ready come the next game."
England defender Dawson also spoke to Sky Sports after the game and he shared Henderson's view. He said: "I didn't think there was too much wrong with the goal but it's one of those things and the referee has obviously seen something that we didn't.
"It seemed a bit delayed his reaction but we realised that it was ruled out. It's not something the players have talked about."