Transfer news: Swansea to sign Jose Canas after deal agreed with Real Betis
Swansea have agreed a deal to sign Real Betis midfielder Jose Canas.
Last Updated: 06/06/13 5:29pm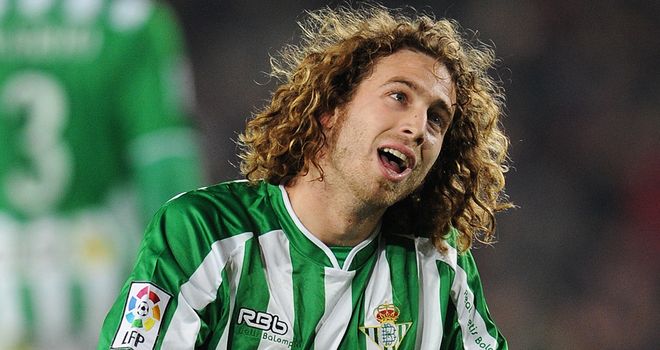 The 26-year-old helped Betis to a Europa League play-off berth but will line up for Laudrup's side next season after the two parties came to a pre-contract agreement, with the deal due to be ratified on 1 July when the transfer window officially reopens.
Canas' capture comes in the wake of suggestions Laudrup has fallen out with chairman Jenkins over transfer budgets.
But Jenkins has pointed to the signing of Canas as evidence they are keen to support the Dane in strengthening his squad as they look to build on last season's ninth-place finish in the Premier League and their success in the Capital One Cup.
"Myself, the manager and our recruitment staff are all agreed on the quality of players we would like to sign to help us remain competitive in the Barclays Premier League," Jenkins told the club's official website.
"We are continuing to work behind the scenes, in private wherever and whenever we can, to strengthen our squad.
"For that reason it's disappointing that I have to respond to the speculation of unrest at the club after the fantastic season we have had.
"There are substantial funds available to strengthen our squad over the summer while we are also in the privileged position, because of the way we've managed our finances over the years, that we do not need to sell anyone to fund those new recruits.
"It goes without saying that some of our targets will sign for other clubs for different reasons.
"The important thing, and a factor that has always been vitally important for us, is that we sign players who want to play for Swansea City for footballing reasons. If not, then we move on to the next target.
"I think most people will agree that it is a policy that has served this football club, and more importantly our fans, well over the last decade.
"It is true that I have not sat down with our manager since the last game of the season against Fulham, but that's because we have both been away on holidays at different times.
"It doesn't mean we haven't spoken because I've had numerous conversations with Michael over the phone and there's been no difference of opinion on our original transfer targets.
"We have built up a strong reputation over the last few years at Swansea and I believe we have gone about our business in the right way.
"We have to remain strong for the sake of our supporters and make sure this proud reputation is protected at all costs.
"A lot of hard work has been done to try and maintain and improve on the incredible journey we have had over the last 10 years. That work will continue.''