Vincent Kompany and Thibaut Coutois say moves have boosted Belgium
Vincent Kompany and Thibaut Coutois say the improvement in the Belgium national side comes from playing for top clubs.
Last Updated: 07/06/13 5:55pm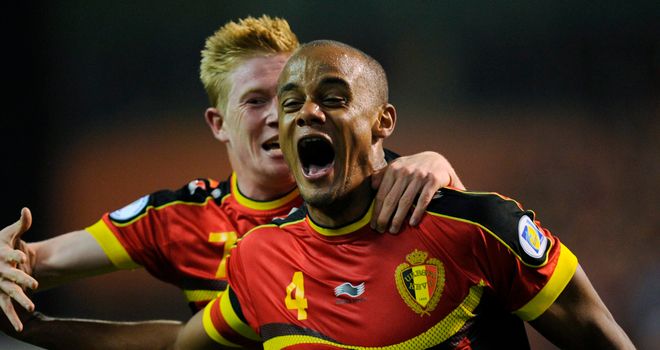 The Belgians were ranked 71st in the world as recently as 2007 but have now risen to 12th and boast the likes of Eden Hazard, Marouane Fellaini, Mousa Dembele and Christian Benteke within their ranks.
They currently sit top of their qualification group for next summer's World Cup and will have high hopes for Brazil 2014 after failing to qualify for the previous two tournaments in 2006 and 2010.
And Kompany puts the dramatic improvement down to the standards the players are now used to on a weekly basis.
He said: "When you play in the Premier League you mature quickly.
"The intensity and aggressiveness give you the ability to cope with pressure situations and this helps in the national team because we are used to playing at that high pace.
"We have all improved."
And Chelsea goalkeeper Thibaut Courtois agrees with his countryman. He has spent two seasons on loan at Atletico Madrid and can feel a marked improvement.
"The players are faster, more versatile and I have improved on all levels," he said.
"I am quicker, I have improved my reactions and my game behind the defenders.
"When I'm playing for my club I have to manage two or three critical situations a match - just like in the national team."