Serie A: Inter Milan reject Antonio Cassano's claim that he reneged on a promise made to him
Inter Milan head coach Walter Mazzarri has rejected Antonio Cassano's claim that he reneged on a promise made to him.
Last Updated: 05/07/13 12:51pm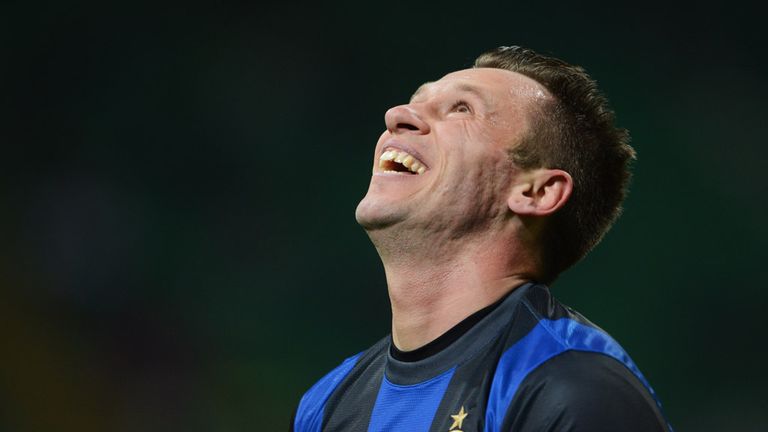 Cassano, 30, signed for Parma on a three-year contract on Wednesday after spending one season at San Siro, in which he scored seven league goals as Inter finished ninth in Serie A.
At Thursday's unveiling the Bari-born striker claimed new Inter boss Mazzarri had promised him a starting berth for the 2013-14 campaign, only to back out of the pledge and exclude Cassano from his plans.
Former Napoli coach Mazzarri denied the accusation, telling Inter's official website: "What I said to the club is exactly what I said when I held my (introductory) press conference.
"I haven't spoken to or about the players since then because I was waiting for the start of the season.
"I don't see how I can have decided who my first-choice players and squad players are before I've even had the chance to coach them.
"I'd like to put on record that the last time I spoke to Cassano was at the Inter v Napoli match in the first half of last season. On that occasion I just said hello to him on the pitch."
Cassano had told La Repubblica Sport: "I thank (president Massimo) Moratti and (director of sport Marco) Branca but not Mazzarri.
"First of all he told me I would be a definite starter, but then he changed his mind. So I left Inter because I wasn't going to be in his plans.
"I'm keen on people who will show me love from day one. (Parma coach Roberto) Donadoni has big plans and was happy to bring me to Parma."