David de Gea: It would be great if Cesc Fabregas came to Manchester United
David de Gea would welcome Cesc Fabregas at Manchester United and is targeting the title of world's best goalkeeper.
Last Updated: 17/07/13 10:12am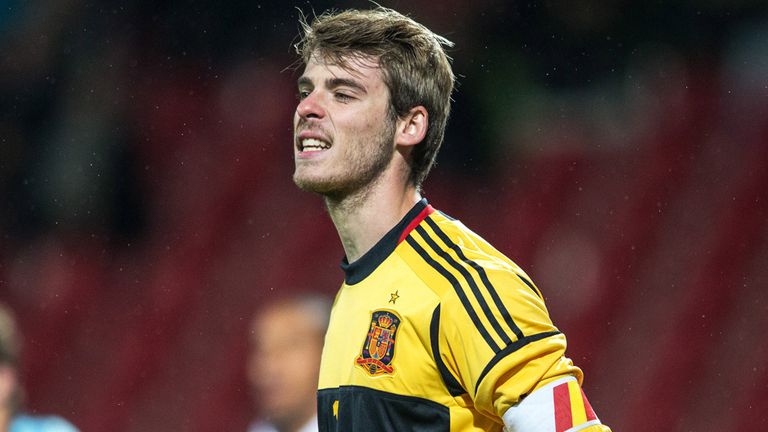 Fabregas has been linked with a move to Old Trafford after the Red Devils reportedly tabled a bid and De Gea admits he would relish the chance to link up with his fellow Spaniard at club level.
"It would be great if Cesc Fabregas came here," said De Gea, quoted in the Daily Mail.
"He is a great player, very skilful, knows how to win things and you always want those type of players in your team."
De Gea has been receiving praise of his own of late, with Spain skipper Iker Casillas claiming that the 22-year-old keeper could establish himself as the best in the business before long.
"It's very humbling but, yes, it's possible," claimed the United man.
"Those words motivate me to reach that goal. When Edwin van der Sar said he was leaving United I wanted to be the man to replace him.
"I was given that chance and I'm not going to let it go. I would love it if one day the fans speak of me in the same way as Edwin and Peter Schmeichel. That would mean all the hard work has paid off."
"I knew I had to become bigger physically. You can see how I look different to when I first came here and I have much more muscle.
"I've worked hard in the gym, lifting heavy weights and doing a lot of exercises. It was a very intense regime. I changed my diet too and now eat an awful lot more than before.
"In training, the players would deliberately hit high balls into me and barge into me so I'd get used to that side of the English game. I actually enjoy the physical side of it all now."