Coach Roberto Donadoni will not treat Antonio Cassano like "a Martian"
Parma coach Roberto Donadoni will not treat controversial striker and new signing Antonio Cassano like "a Martian".
Last Updated: 17/07/13 12:52pm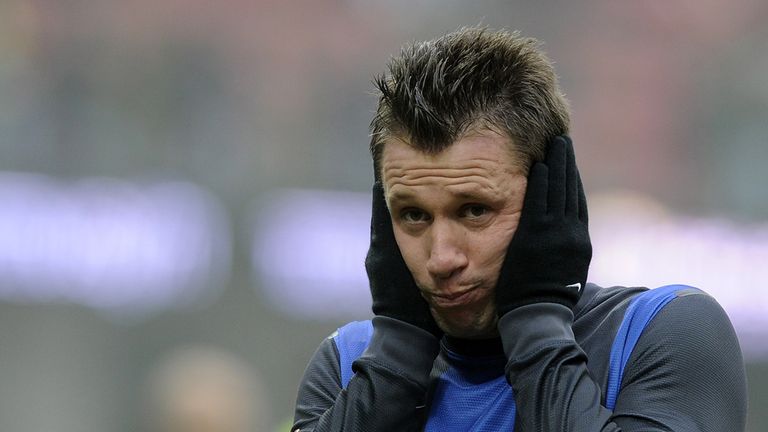 The Gialloblu boss spoke of his excitement at landing the former Roma and Real Madrid striker from Inter Milan on a two-year deal but, somewhat inevitably, he has been forced to answer questions about the Barese forward's troubled history.
Cassano saw his spells with Real, Sampdoria and Inter cut short due to unsavoury disputes with coaching staff and, while Donadoni will not treat the 31-year-old with kid gloves, he wants the Italian media to forget the past and focus on the striker's contribution in front of goal.
Donadoni told La Repubblica Sport: "This is a subject that annoys me quite a bit. When people talk about Antonio they always say that he needs to be managed, almost like he's a Martian.
"He's a professional like all the others and I'm sure he knows that this is a key moment in his career, and that he cannot afford to fail.
"The most important thing is that he doesn't have any regrets about the past, but that he stays grounded and focuses on our ambitions for the present and future."
Donadoni believes the wave of enthusiasm felt around the Stadio Ennio Tardini could possibly boost the Ducale club towards another European campaign.
Parma were a regular feature on the continent around the turn of the century - winning the UEFA Cup in 1999 - but administration and subsequent relegation in recent years have left the Gialloblu struggling to regain their former standing in Serie A.
"We are staying down to earth," Donadoni added. "We know which path we want to go down but it's easier to make claims than to keep promises.
"Let's stay realistic and try to make as few mistakes as possible."