Chelsea's Andre Schurrle aims to earn place in Germany's squad for World Cup
Andre Schurrle hopes to feature often enough at Chelsea to earn a place in Germany's squad for the 2014 World Cup.
Last Updated: 22/07/13 2:55pm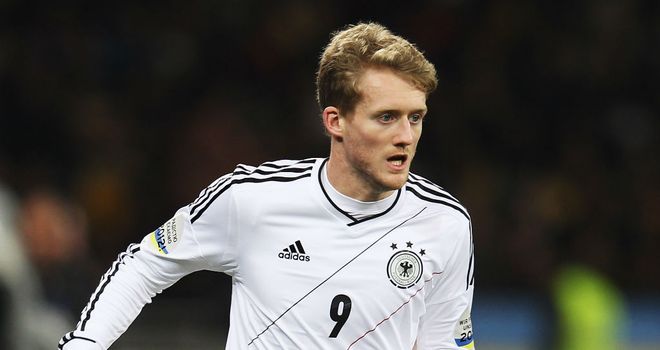 The 22-year-old joined Chelsea from Bayer Leverkusen this summer, becoming Jose Mourinho's first signing of his second spell, and is well aware of the Portuguese's warning that players must feature regularly for their clubs to earn a place at next summer's showpiece tournament in South America.
Although the warning was interpreted as a ruse to sign Manchester United's Wayne Rooney, it could equally apply to the Chelsea players bidding to impress Mourinho.
"For every player it's important," Schurrle said.
"You have to do a good job for the World Cup. We have big goals for the German national team next year. It's really important.
"We have to see. We have so many matches, so many games to play, so every player is needed and is important for the team and so am I.
"Everything is a big motivation now for me. The World Cup, of course, but here in the team to play, to improve myself."
Schurrle is competing for one of three forward berths behind a central striker where competition is intense.
Eden Hazard, Kevin de Bruyne, Victor Moses, Juan Mata and Oscar - the latter duo are both absent from the club's Asia tour following the Confederations Cup - are all in contention for the roles.
There is also the potential for Rooney to fill one of the positions, if he signs, although Mourinho would favour the England man as a striker.
Schurrle is unfazed.
"In every big club there will always be good competition," he said.
"That's what I wanted. I wanted this move, I wanted this step. I have to train hard, I have to work hard and then we will see.
"I want to improve myself, I want to improve all the time and what I really want is to help the team, with my qualities, to be successful."
Former Germany player and coach Rudi Voller has predicted big things for Schurrle, who sought advice from ex-Leverkusen team-mate and former Chelsea midfielder Michael Ballack before moving to London.
"We talked a lot about Chelsea," Schurrle said.
"He's a good friend of mine and he always said to me 'if you have this opportunity, you have to do this. It's a big club but like a family inside.'
"That's what I've found here. It's really nice, really good people, really good team.
"I feel like I'm almost two years here. I'm very happy here at Chelsea."
Really happy
The move was long-mooted before becoming reality.
Schurrle added: "It was hard for me last summer that I didn't come here, but I wanted to be a professional, I wanted to do my best for Leverkusen. That's what I did.
"I'm really happy, I'm really looking forward to being a Chelsea player for the next years.
"I'm really happy now here and I really want to thank Leverkusen for making it happen."
And Schurrle, who played against Chelsea in the Blues' 2011/12 Champions League-winning campaign, is prepared for English football and optimistic of success.
"I know what's going on, what type of football there is to play," he said.
"There are so many good teams in the Premier League. There will always be Man United, Man City, Arsenal, Tottenham.
"Big clubs, big teams, good quality, but we have very good quality too."