Premier League: Arsenal's Tomas Rosicky not thinking of future
Tomas Rosicky has revealed that he goes into every game with the approach to play like it will be his last.
Last Updated: 25/07/13 9:59am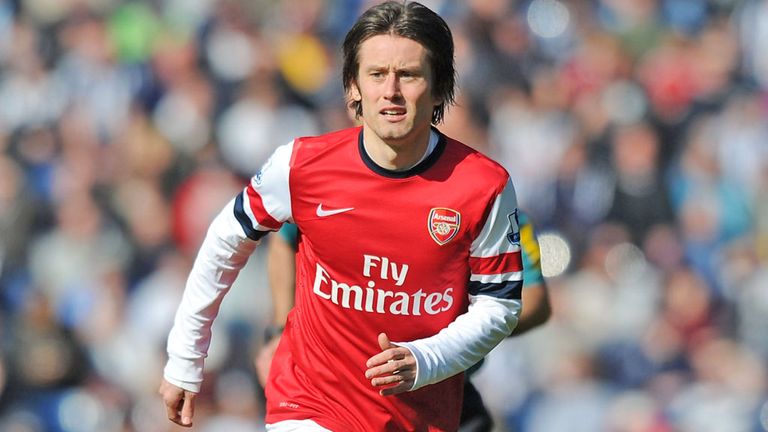 The Czech Republic midfielder, 32, would love to earn a new deal to finish his career at Emirates Stadium but insists his main focus is on making a contribution to the team whenever he can after an injury-plagued few years.
He is pleased with how he has performed over the past couple of years to help the Gunners qualify for the Champions League, and feels the future is bright for the club.
"I'm trying to play every game like it's going to be my last. Everyone can see that and I'll continue to play like that," he said.
"This is my last season. It's not in the back of my mind that I'm playing for a new deal. I'm just trying to give my best for my team and my team-mates.
"I'm enjoying playing football again and we will see how it goes. But I'm not in a rush. I've said many times already that I would love to finish my career at Arsenal.
"The big part is the experience I have. I've been through happy times, bad times and everything. I'm 32 years old so I have a lot of stuff behind me already. All these tough games are the most interesting ones. You want to play in them and I'm no different in that.
"If you look at the last two seasons and what I was able to produce I think I played a big part in us coming back for a top four finish. Obviously for me the challenge is to make the pre-season which will help me for the whole season and contribute straight from the first game."
Arsenal have not won a trophy since the 2005 FA Cup but Rosicky is confident the drought will end this season after a summer when they have kept hold of all their key players.
He added: "It's vital to have a good mixture of youth and I don't want to say the veterans but the experienced guys. I think they changed a lot since I came here.
"We have more experience than we used to and a big thing for me is that this is the first time since I'm here that almost no-one from the important guys has left.
"This is very important for the chemistry and the team state. Obviously if we can get one or two new players it would be great. It would be interesting for us to go into the new season."