Sunderland defender Wes Brown vows to return from injury to lead Black Cats
Sunderland defender Wes Brown is hoping to put his latest injury worries behind him and become a dressing room leader.
Last Updated: 29/07/13 4:29pm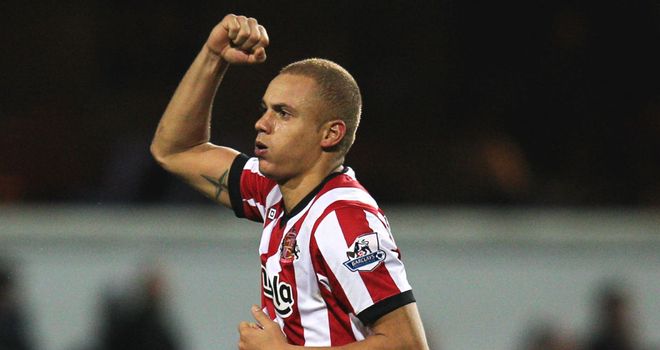 The 33-year old was absent for the entirety of last season due to a knee ligament injury as the Black Cats narrowly avoided Premier League relegation.
Brown played 90 minutes in both of Sunderland's pre-season Asia Trophy ties in Hong Kong, and the former England man vowed that he is now ready to return and guide some of the squad's younger players.
"I am the sort of character who would do that anyway," he said.
"Throughout pre-season I have been pretty fit so it was just a matter of showing a bit of determination and getting back in with the lads.
"I am the oldest in the team so I hope I've got a lot of respect from the younger lads. I have been there and done it so the younger ones do look up to me and John for certain things.
"If I can train hard and show them what it's all about then that's got to be a good thing."
Brown has endured an injury-plagued career, but he says that he has remained positive throughout his latest spell on the sidelines.
"A few people have asked me if I was worried if I would be able to come back this time. It sounds weird but no, I never thought that," said Brown.
"I always had confidence in myself. It just took a lot longer than I first expected. I have had injuries throughout my career so I never doubted I could come back again.
"I have done my cruciate in both knees, had a broken foot, a broken ankle and lots of little niggles in between. It sounds strange but at some point I have always been able to come back.
"Mentally, I don't seem to struggle with it. I just get my focus right and get it done. I never have a negative thought and that's one of the main things.
"The manager works so hard with his methods. He seems to cover everything. Hopefully when the season starts we will be a lot fitter."