Serie A: FIGC look into comments by Fiorentina's David Pizarro
Fiorentina midfielder David Pizarro has been referred to the Italian Football Federation's disciplinary commission.
Last Updated: 30/07/13 7:52pm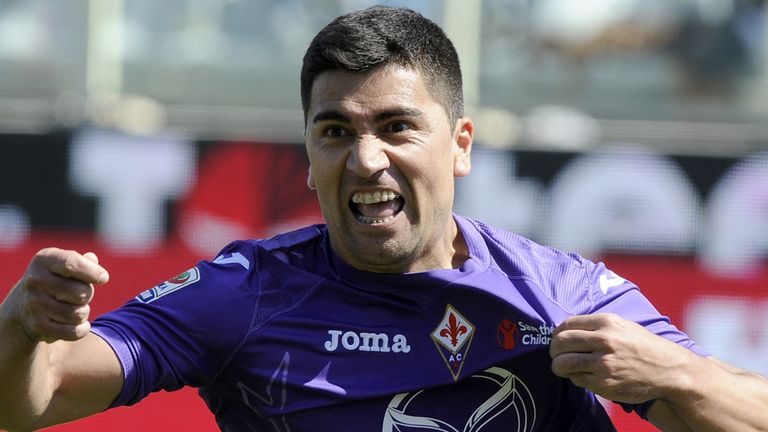 The Tuscan club finished fourth behind AC Milan in the 2012-13 campaign to miss out on preliminary qualifying for Europe's premier competition by two points.
While La Viola were beating Pescara 5-1 on the final day, Milan had to come from behind to beat Siena 2-1 in a game which saw the Rossoneri awarded a late penalty.
Fiorentina players and staff expressed their unhappiness over the penalty call at the time and, in interviews with Italian newspapers Gazzetta dello Sport and Corriere dello Sport published last week, Pizarro revealed how he still feels the authorities have turned his side "into a joke".
The FIGC have subsequently taken issue with the Chilean's comments, with a statement on their official website reading: "The federal prosecutor has referred Fiorentina player David Pizarro to the national disciplinary commission.
"In statements published on the websites of the Gazzetta dello Sport and the Corriere dello Sport on July 22, he publicly expressed opinions and remarks likely to infringe on the prestige, reputation and credibility of the Federation, casting doubts on the neutrality of the institution itself, the fairness of the games and the championship and the objectivity and the impartiality of the referees.
"For their objective liability, (Fiorentina) have also been referred."
Former Manchester City and Roma midfielder Pizarro was quoted in the Corriere dello Sport as saying: "They didn't let us play in the Champions League even though we deserved it, they turned us into a joke and, just like all Florentines, I am yet to digest what happened.
"I am protesting about a system that allows these kind of things to happen; the same things I saw at Roma. It's a shame to work hard all week only to be frustrated every Sunday."