Alvaro Negredo expects Manchester City to excite in 2013/14
Alvaro Negredo is expecting Manchester City to play an exciting brand of football under new boss Manuel Pellegrini.
Last Updated: 07/08/13 10:24am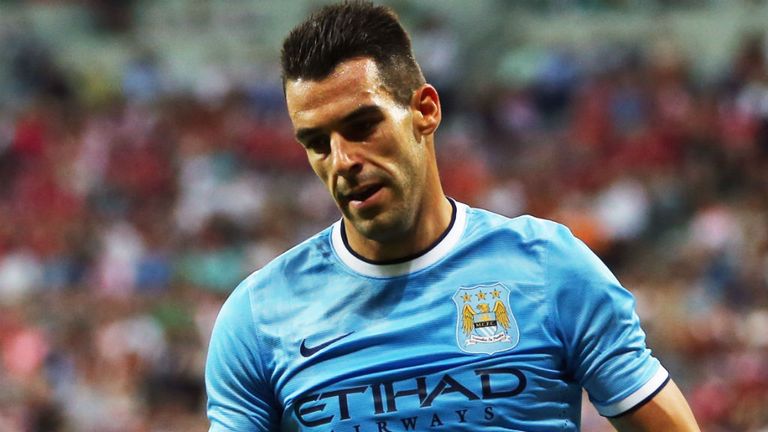 Negredo has followed Pellegrini from La Liga to the Premier League this summer, and the former Sevilla striker is looking forward to working under a manager who enjoyed considerable success in Spain with Villarreal, Real Madrid and Malaga.
The Chilean tactician is expected to stick with the philosophies which have served him well in a distinguished coaching career to date, and that means looking to get his side on to the front foot.
Negredo admits that City are likely to take plenty of 'risks' as they endeavour to open up a new era in style, but claims it is that approach which convinced him to leave his homeland for the Etihad Stadium.
The Spain international told the Manchester Evening News on Pellegrini's approach: "Every club he has left has been very happy with what he achieved.
"At Villarreal he had some amazing seasons, at Real Madrid his one season was a very good one, and at Malaga, despite having very little money and a lot of problems, they played very good football.
"The way the fans at those clubs all loved him shows what he is like.
"He plays attacking, risk-taking football with a lot of possession of the ball. All fans like that kind of football, so I am sure City fans will take to his team."
Excel
While tipping Pellegrini to be a success in England, Negredo is confident that he too can shine in the Premier League - with the 27-year-old having opened his goal account for City in a 2-1 Audi Cup defeat to Bayern Munich.
He added: "I am happy to be called an English-style centre forward. I like that type, the tall, strong player who is good in the air, and I like being seen as that kind of player.
"That is one of the main reasons I came here. In Spain people always said I would excel in the English league, so I hope that is the case.
"It was good to get my first goal against Bayern, it is just a shame that it didn't count for anything. But as a striker it is always good to get started and score a goal - I hope that my next goals mean something."