Take the long road
"It was better than running up and down the streets in England!" - Ahead of a showpiece Wembley outing against Manchester United, Grant Holt talks exclusively to Sky Sports about the summers in the early years of his career spent playing in Australia and Singapore
By Peter Fraser - Follow me on Twitter @SkySportsPeteF
Last Updated: 12/08/13 11:51am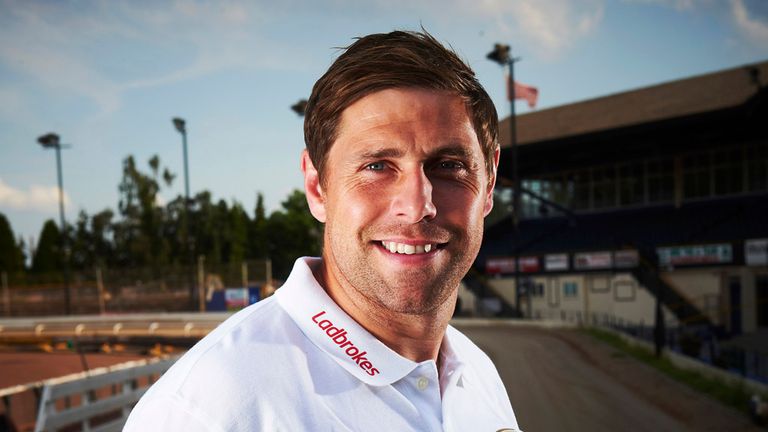 "I got stuck on the M6 for a while," joked Grant Holt at the start of our interview. It had been quite a journey - and not just in his motorway travel but also, famously, in his footballing career.
The Wigan Athletic striker is preparing for Sunday's Community Shield against Manchester United but when we spoke a few days before the Wembley showpiece, he had travelled from the North West to Coventry.
Having trained with his club earlier in the day, Holt was in the Midlands to see two of his racing dogs being trialled. It is one of his passions and he part owns the Ladbrokes-sponsored SMGH Racing Club alongside his former Norwich City team-mate, Steve Morison. But football and this weekend's showdown with United remains his main focus.
Holt's course to the top of the game has involved more twists and turns than the midweek trip on Britain's road network he had undertaken before we chatted. The story of his career has been much told. He reached the Premier League with Norwich via the club he supported as a boy - Carlisle United - and spells with non-league Workington, Halifax and Barrow having also later played for Sheffield Wednesday, Rochdale, Nottingham Forest and Shrewsbury. However, what is less known is the time he spent in his late teens and early twenties playing in Australia and Singapore with clubs Sorrento and Sengkang Marine, respectively.
Having been released by Halifax in the summer of 2001, Holt was also mourning the death of his 40-year-old father to cancer. He did not know what he wanted to do with his career. But then he received a call from former Halifax assistant manager, Peter Butler, who had earlier been sacked by the West Yorkshire club and moved to Australia. Butler invited Holt to go and play for his new club, Sorrento in Northern Perth, where he was working with manager Trevor Morgan.
Holt accepted the invite and moved Down Under for a four-week spell. He proved a success in Australia. The move allowed him to refocus and he returned to England with a desire to have another attempt at non-league, where he joined Barrow, in the ultimate aim of climbing the football pyramid.
"It was great," remembers Holt of his time in Australia in an exclusive interview with Sky Sports. "I lived in a house with a couple of lads from England. I shared a house with them for a month. I would probably have stayed longer but it was just a case of a nagging feeling that I needed to get back and I needed to give myself a shot at having a go in non-league and seeing where it took me.
"So, I just thought at the time that I needed to leave. But I had a great time and made some good friends, who I am still in touch with. A friend of mine stayed out there and I have been to see them three or four times and have been to see the club [Sorrento]. I really enjoyed it."
He added: "It was not the worst standard of football but it was not the greatest in the world either. But you still had to test yourself. You had to do the right things. It just was not the standard I wanted at that stage of my career."
Having joined Barrow upon his return to England, some good performances saw Holt offered his dream chance to trial with his beloved Carlisle. He did enough to be offered a deal, which was set to be signed when the club came out of administration. Unfortunately, Holt says, he was let down due to factors outside of his control and the deal was ultimately never finalised, "I kind of got shafted a little bit".
In the meantime, while he had been waiting for Carlisle to settle their financial problems and for what he expected would have been the simple task of putting pen to paper on his contract, Holt was contacted by his former Sorrento boss, Morgan. Now in charge of Singapore-based side Sengkang Marine, Morgan wanted the forward's goalscoring talents during English football's summer break of 2002.
"Trevor needed a striker and asked me to go out there," explained Holt of his move to the Far East. "I told him about the agreement I had with Carlisle and he said, 'Well, come out for a few months and help me out. It will keep you fit'. It was better than running up and down the streets in England!
"Three months in, we were doing well and had a decent side. Then I got the phone call [from Carlisle], which was disappointing in one way but, in another way, it was my boyhood dream. I could not turn it down. I had to go back but, unfortunately, it all fell through."
'Doing well' is a bit of an understatement. Holt, then aged 20, scored 12 goals in 14 league and cup matches for Marine. His performances also included a hat-trick in a win against Jurong in one of his opening appearances.
"I cannot remember if it was the first game or the second game," he said of his treble. "But I did well. We got to the semi-finals of the cup, which they had never done before. But I could not play in that game, because I had come back to England. I had teams out there [Asia] who were trying to get my signature for another couple of years. But I was always going to come back once I got that phone call from Carlisle."
Holt lived in an apartment block with his girlfriend, Faye, who is now his wife, in the Hougang district of Singapore. He shared the complex with some of his fellow Marine players among other residents. It was luxurious surroundings with a swimming pool, gym and sauna.
He has exceptionally fond memories of his days with Marine and remains in contact with many of his former team-mates, including Australian forward Simon Harland, who has just moved home from London, although Holt admitted, "I am not sure what job Simon was doing. He changed jobs more than the weather!"
The football, of course, is among the memories and particularly some of the more unusual scorelines which are recorded in Asian football. Some reports claim Holt's Marine were even involved in a staggering 9-0 defeat by Geyland United during his time. But he said: "No, not when I was there, I don't think. Hopefully anyway! We had a couple of 5-4 games but no 9-0."
After the Carlisle deal failed to materialise, Holt went on to Wednesday, Rochdale, Forest and Shrewsbury, who broke their transfer record to sign the striker and were rewarded by reaching the 2009 League Two play-off final only to lose to Gillingham.
He then captained Norwich to promotion to the Premier League in 2011 and proved his talents in the top flight with 15 goals in 2011/12 to leave him as the division's second-highest scoring Englishman behind only Wayne Rooney.
Holt's time with Norwich came to an end this summer and he subsequently moved to 2013 FA Cup winners Wigan, who were freshly relegated from the Premier League to the Championship. But he also came close to a return to Australia with A-League Melbourne Heart.
"They made an enquiry and spoke to Norwich," said Holt. "They asked if they could speak to me. I had a chat with the manager there and he said he wanted to bring me in and get things going. Unfortunately, they could not do a deal with Norwich and that was the end of it. It was something that was interesting for me at the time but, luckily for me, Wigan came up and gave me a good chance."
Holt clearly has no regrets about his time in Australia and Singapore and is well aware of the positive impact it had on his career and his life. Perhaps without the move he might not have reached the Premier League or be preparing for a Wembley meeting with David Moyes' Manchester United.
"I came back with a new hunger and a new drive," he recalls. "It was obviously a hard time for me when I left Halifax. My dad had sadly just passed away and I was a little bit in limbo. It took me that time away to realise that, if I really, really wanted, I could make a good career. That is what it has turned out to be."
Next on Holt's footballing path is Sunday's Wembley date with Wigan against Manchester United. It will be his second outing at the home of English football after his appearance with Shrewsbury. And, having scored the second goal on his debut in the 4-0 hammering of Barnsley in last weekend's Championship opener, he is looking forward to another notable occasion on his footballing journey.
"We are in good spirits," he said. "We had a good performance at the weekend and are going to Wembley with good confidence. To be fair to us, the squad and players we have got have been in the Premier League anyway so we have played Manchester United before. We are not going to be overawed."
Grant Holt is part owner of SMGH Racing Club, alongside former Norwich team-mate Steve Morison. Ladbrokes are proud sponsor of the club. For more information, go to steveandgrantsracingclub.co.uk