Leeds midfielder Michael Brown claims Championship is wide open once again this season
Leeds midfielder Michael Brown admits the Championship is wide open this season, ahead of Sunday's clash at Leicester.
Last Updated: 10/08/13 1:54pm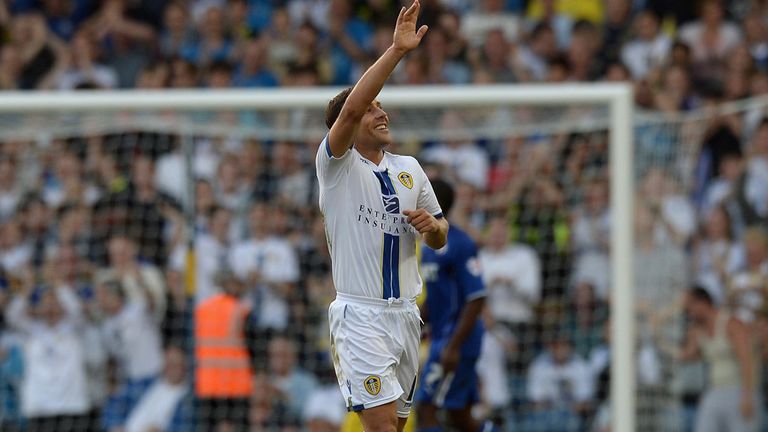 Experienced midfielder Brown, who scored a stunning 25-yard goal in Tuesday's 2-1 Capital Cup win over Chesterfield, expects the division will once again be impossible to predict.
He told the Yorkshire Post: "The Championship looks tougher than ever, team-wise. It is wide open with lots of great teams.
"Often, people look at a certain team and think they will win but look at what happened last season. That was incredible.
"Wolves and Blackburn, they were both expected to do well. Especially Blackburn, who had a massive go in terms of spending money. But both of them struggled.
"In this division, it is all about team ethic. And if you can get a bit of momentum, that can take you a long way.
"Even if a team is not playing well and nick a couple of 1-0 wins, then it can start things moving."
Rudy Austin returns from suspension for Brian McDermott's side, while El-Hadji Diouf is back in contention after injury and Brown is hoping the club can collect another three points after back-to-back wins so far.
"Winning is a great habit, though we know we have some tough games coming up - starting with Leicester on Sunday," he added.
"It will be tough as they are expecting to do well. But I am sure we will have a great following and we will give it everything."
Brown's goal on Tuesday made up for missing out on the team against Brighton, and competition for a midfield place has increased further with Austin's return from suspension.
"On a personal level, I want to get some minutes, for sure," Brown said. "It will be a long season if I am not involved at all. I'm here as long as the manager wants to keep me involved.
"Not only on the pitch but off it as well. I train hard, still feel fit and hope to do my bit."