Shaun Derry says too many players at QPR let the club down last season
Shaun Derry says too many players at QPR were 'winging it' last season and did not offer enough to the collective cause.
Last Updated: 10/08/13 12:47pm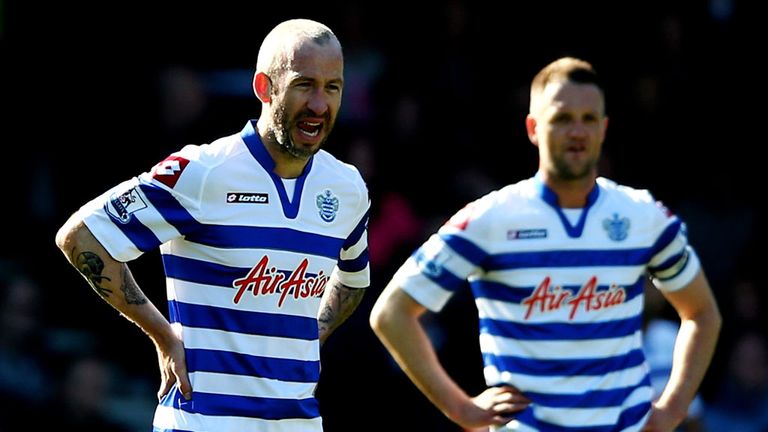 The veteran midfielder is among those to have left Loftus Road on the back of relegation out of the Premier League, with the 35-year-old having linked up with Millwall on an initial one-month loan deal.
Derry is not a man to mince his words and has conceded that a number of so-called 'stars' let themselves and QPR down in 2012/13 as they tumbled out of the top flight.
He says the campaign ended up being a 'disaster' for Harry Redknapp's side and has left them with a serious rebuilding programme to oversee - with the likes of Jose Bosingwa, Loic Remy, Chris Samba, Djibril Cisse, Adel Taarabt and Jay Bothroyd already ushered through the exits.
Derry told The Sun: "I was sad to see Jamie Mackie and Ji-sung Park leaving but I'm not sorry to see the back of the rest of them.
"Did those players earn their money last season? No, of course they didn't. Definitely not.
"The most upsetting aspect of the last two years was seeing certain players with a pedigree who were not contributing.
"You know as a pro when players aren't giving their all. I've been in the game for 20 years and I can tell when players are fighting for the cause and when they are winging it.
"Past achievements mean nothing in football if you don't put in the effort. You get judged on the here and now.
"There were times when things were said in the dressing room because we needed to rectify our situation and that's where things get sorted out. But we didn't get the right response from certain players and it ended in relegation.
"We came up to the Premier League in a whirlwind and the club was striving to miss out three rungs of the ladder and break straight into the top 10. With the benefit of hindsight, I think everyone will now admit that was a mistake because so many new players came in and, for one reason or another, fractions started to develop within the squad.
"Those differences were taken out on to the pitch and affected our results.
"Winning games is the only way to create a team spirit and, when you're losing every week, people start questioning each other and it culminates in relegation, it was a disaster for the club."