Ian Holloway hopes to help Marouane Chamakh at Crystal Palace
Ian Holloway is hoping he can help Marouane Chamakh rediscover his best form at Crystal Palace.
Last Updated: 11/08/13 2:47pm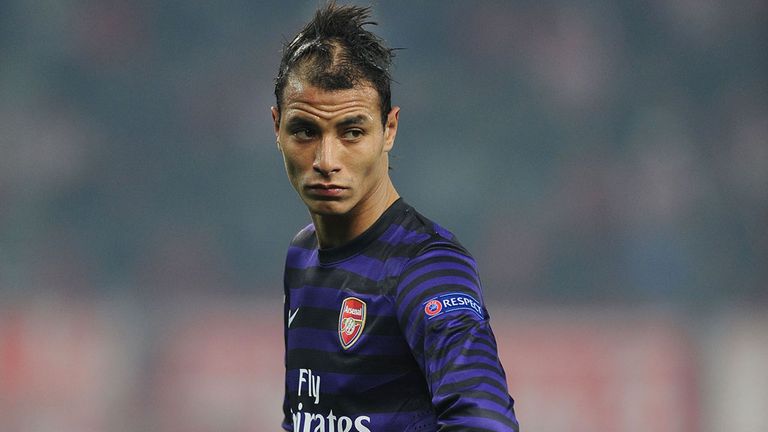 Chamakh confirmed on his official Twitter account on Saturday night that he is joining Palace, who are expected to complete a one-year deal for the Morocco international on Monday.
The 29-year-old has scored 14 goals in 67 appearances for Arsenal since his free transfer from Bordeaux three years ago, but he spent the second half of last season on loan at West Ham United.
He will get the chance to resurrect his career at Selhurst Park and Holloway is confident he can help Chamakh to reignite the spark.
"It's about him getting going again and I normally do all right with people whose careers are faltering," Holloway told reporters after Palace's friendly defeat by Lazio on Saturday.
"I love them and work with them. Hopefully I can get him back to what he played like when he first went to Arsenal.
"There was nothing wrong with him when he scored eight in nine. But I wouldn't fancy being Robin van Persie's understudy. It couldn't have been fun."
Meanwhile, Holloway has hit out at the state of the transfer market as he prepares Palace for their return to the Premier League.
The former Blackpool boss wrote in his Sunday Mirror column: "The wages being asked when I was last in the top flight were mind-blowing. Now they are just plain crazy.
"It's no longer a transfer market. It's a meat market - with vultures that like to call themselves agents picking the game down to its bare bones.
"I have lost count of the number of players we have been offered since we hit a £100million jackpot with our play-off win over Watford. Many agents seem to believe that money belongs to them by right. Some approach you, claiming to have a mandate to work on behalf of players and the clubs that are selling them. In reality, most of the time, they have no agreement in place and are just chancing their arm.
"A few times, we have been offered players who we are interested in - only for fees and wage demands to double or treble once negotiations begin. It has been very frustrating because we need to give ourselves a fighting chance and are still short of quality and numbers.
"I've got to balance that by saying the Palace chairman Steve Parish has done a terrific job sifting through the charlatans.
"He has not been afraid to ask people in the know for guidance and advice and he will not put the long-term future of the club at risk for short-term gains."