Chelsea boss Jose Mourinho says Premier League is his favourite competition
Chelsea boss Jose Mourinho says he is 'better than ever' ahead of his return to the Premier League fray on Sunday.
Last Updated: 16/08/13 4:35pm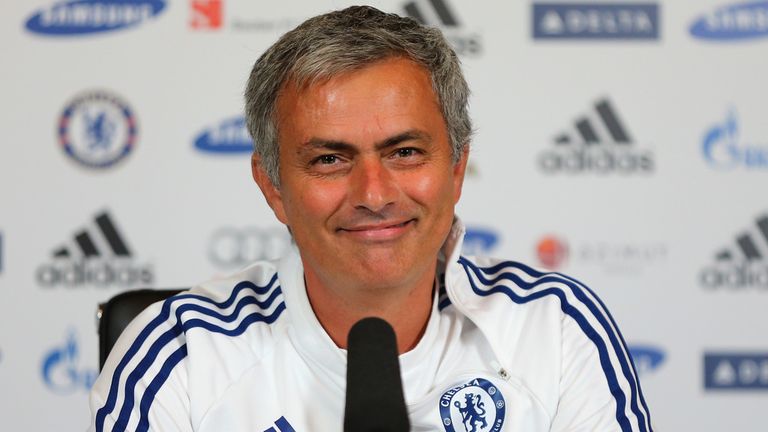 Mourinho won the Premier League twice during his first stint in charge at Stamford Bridge and has now returned for a second spell at the helm.
His campaign will get underway at home to newly-promoted Hull on Sunday and he said on Friday: "'I see myself as somebody that should be in this competition. It's my favourite one.
"I can say that, because I had experiences in three other countries, so I'm in good condition to say that this is my favourite competition and my favourite country to work in. I think I am in my natural habitat.
"I want to say to everyone in the country who goes to football every weekend, I am one of them. I love this football country and I want to try to give joy to everyone.
"I love football. I look forward to the salt and pepper of football, the unpredictability of every game, every result, who is going to win, who is going to qualify for top four? I love that, so let's go for it.
"I think I am better than ever. Experience helps us to be better, especially managers. We are not like players, that sometimes age changes for the negative side. I just want to be seen as someone who gives everything for his club and the Premier League.
"I look to improve my players and make a contribution to my club, not just in a selfish way, but to give the club conditions not just for tomorrow, but for the long term.
"Our start is difficult. I don't like to play against teams from a lower division, who come with a fantastic mentality.
"The fans have to focus on the team and support the players. Our people are great in their sense of loyalty."
Mourinho hopes for one addition
Mourinho has had two bids rebuffed for Manchester United forward Wayne Rooney this summer but does not seem to have given up hope of making the signing.
Asked about managers needing to strengthen their squads, he said: "We all say no but we lie, we obviously want to make it better.
"I like the squad, I'm not lying when I say that, but we are trying to get one player and we will see what happens.
"Until the last day, when the market is open, we all are waiting for something to happen."
Barcelona are believed to be interested in signing Chelsea defender David Luiz but Mourinho says the Brazilian will be going nowhere.
"We want to keep him," said Mourinho. "We understand that a big club like Barcelona wants the best and tried to get one of the best central defenders in the world.
"But we are being very honest also, by saying there is no chance David is leaving."