Serie A: Gonzalo Higuain is raring to go at new club Napoli
Gonzalo Higuain insists he has moved to Napoli to make history after turning down attempts for him to stay in Madrid.
Last Updated: 23/08/13 3:26pm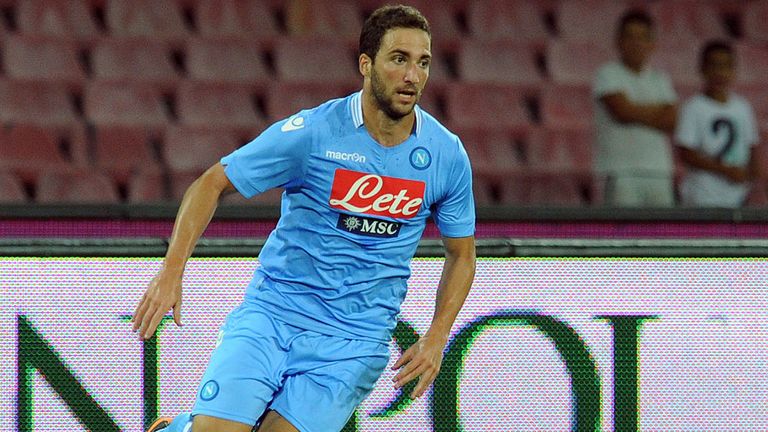 The Argentine forward was linked with Arsenal and Juventus this summer before he chose Napoli in a €37m (£37.1m) deal after the club sold Edinson Cavani to Paris Saint-Germain.
Higuain says new Real boss Ancelotti tried to keep him but he wanted regular football.
He now wants to emulate the success of compatriot Diego Maradona, who helped Napoli to their only Serie A titles in 1986/87 and 1989/1990, and create history at the club under new boss Rafa Benitez.
He told Gazzetta dello Sport: "I wanted to leave Real Madrid because I wanted to play regularly, but that wasn't possible there.
"When talks with Napoli got underway, Ancelotti tried in all ways to convince me to stay.
"But I had already made up my mind and the Napoli project was the most interesting out of all the ones proposed to me."
He added: "Cavani has left and will be remembered for the many goals he scored. I'm here to make history like Diego Maradona, because my only target is to win.
"I'm convinced this will be an important experience for me. The club, the coach and the squad are all of a high level.
"We have to believe in the Scudetto, we are competitive and we can dream even if Serie A is very difficult. We'll be up against the usual teams."
Higuain is also set to feature in the UEFA Champions League with his new side and he is confident Napoli will be able to hold their own in the elite competition.
"It's hard to say what our chances in Europe are. We'll be up against teams of an international level, but the side has been built to withstand the challenge of the Champions League."