Transfer News: Thibaut Courtois ready to battle for his place at Chelsea
Thibaut Courtois says he has no fear about challenging Petr Cech for the number one jersey at Chelsea.
By Francisco Acedo
Last Updated: 09/09/13 3:59pm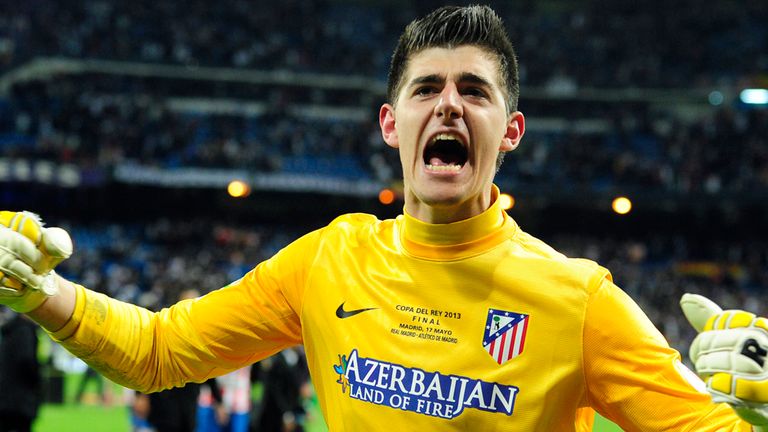 Courtois signed for Chelsea from Genk in 2011, but he was immediately sent on loan to Atletico Madrid where he is now entering his third year.
The 21-year-old insists it was his choice to return to the Vicente Calderon this season, as he could have stayed at Chelsea or been loaned to another English club.
Courtois, who has emerged as one of the best young goalkeepers in the world and has even been linked with Barcelona, says Chelsea coach Jose Mourinho is looking for him to challenge Cech.
"The club [Chelsea] and Jose Mourinho wanted me to return for this season," he told DH.be.
"The management also considered sending me out on loan for a season at another Premier League club. But I didn't fancy that option: I feel good in Madrid and I wanted to play in the Champions League with Atletico."
On Cech, he added: "I'm not afraid of fighting for my place with Cech. I'm not afraid of anyone.
"I have faith in my ability and I know that Mourinho doesn't let a player's status affect his selection decisions.
"The proof is that he left [Iker] Casillas on the bench because he thought Diego Lopez was training better.
"Going back to Chelsea would have been a gamble. I could have played, and that would have been perfect. But I also might not have played and could have risked losing my place in the Belgium team. With the World Cup coming up, that would have been a risk."
He says next season he is more likely to try and battle for a place at Chelsea and said: "Next year, I could be in a position to take more risks. But, as a young player, what's important for now is to keep playing to get to a better level."