Frank Lampard will win his 100th cap for England in World Cup qualifier in Ukraine
Roy Hodgson has confirmed that Frank Lampard will win his 100th cap on Tuesday night.
Last Updated: 10/09/13 6:24pm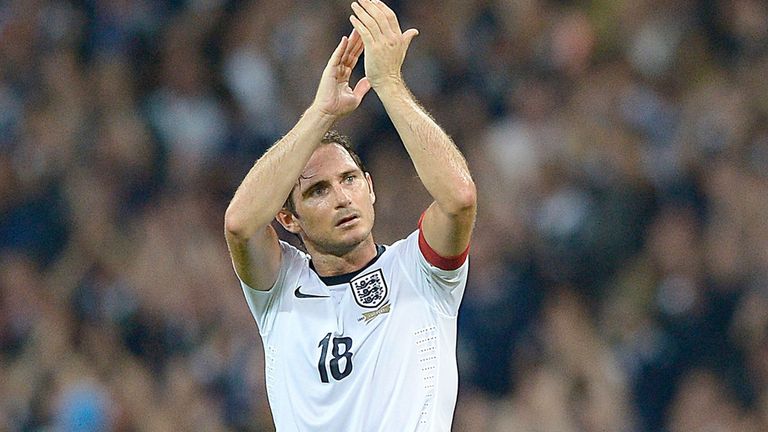 And captain Steven Gerrard says it is now up to the team to make sure the night is a special occasion for his fellow midfielder.
Lampard, 35, has enjoyed a superb career, winning trophies galore at club level with Chelsea, and will now become just the eighth person to win 100 England caps, having made his debut back in 1999.
"All things being equal, Frank will play and start the game and win his 100th cap," said Hodgson.
"I'm happy to be part of that. I don't think there will be many players who will play for England for two or three years, let alone 14 years.
"Fourteen years is a long time to be representing your country. We don't have that many international matches, so I think people who want to play 100 games for their country have to play for a team that wins major international tournaments and play for a very long time."
Fantastic occasion
Lampard will line up alongside Gerrard and Ashley Cole, who will both be winning their 105th caps, to pull level with the great Billy Wright, and so England will be fielding three players with 100 appearances in the same team for the first time.
Gerrard said: "It's a fantastic occasion for Frank, I'm absolutely delighted that he will get to 100 caps.
"And, obviously, me and Ashley did that recently as well, and we're now going to move level with the legend Billy Wright.
"It's going to be a special occasion all round but we all want to remember it for the right result. I lost when I won my 100th cap but hopefully that will be different for Frank and he can go away with fond memories."
Next summer's World Cup will possibly represent a last chance for players such as Lampard, Gerrard and Cole to win a major trophy with England.
And Gerrard said: "We're trying to use our experience. This is going to be our last crack at doing well at a World Cup, and hopefully that'll be infectious for the group and the young lads will see how much we want it."
Key forward Wayne Rooney misses out through injury and Gerrard added: "Wayne's a world class player and any team would miss Wayne when he's not available but I think we've got more than enough in the squad and in the 11 to do the job out here.
"Confidence is high and, if we defend well tomorrow night, we've got every chance of getting the result we want."
England are top of Group H but Ukraine are only a point behind and Lampard stressed that the result is all that matters in Kiev.
"By hook or by crook we have to perform, we have to work hard, we have to play well and we have to get the result," he told Sky Sports News.
"They're a good team, we can't underestimate them, they've got fantastic talent. Going forward, and defensively, they're a very good unit.
"We need to go on Tuesday night and try and get that result and put it in our own hands, that's all you can ask for with two home games coming up after that.
"We're very focused on what we've got to do. People can easily dismiss a group when they don't see a Spain or Germany sitting in it but we were aware that there were a few strong teams in there."
Sky Sports pundit Jamie Redknapp expects Lampard to be a key figure against Ukraine and he feels the match is ideally suited to Hodgson's coaching abilities.
Redknapp said: I think Frank will have a big role to play against Ukraine because Roy Hodgson will be looking to fill up the midfield.
"The England manager has always been very good at making teams hard to beat and this sort of fixture will turn him on. He's made his name getting 0-0 or 1-1 draws when he needs them and one of the reasons he didn't make it at Liverpool is because they want to see an attacking brand of football.
"Hodgson knows the value of a draw on Tuesday night and he will set his team up accordingly - but that can be dangerous as well. He needs to leave players on the pitch who can win the game because if we sit back too much we'll be asking for trouble against a young, pacy, confident Ukrainian side who know each other well because so many of them play together for FC Dnipro.
"It's really important that we leave an attacking threat on the field and I'd be amazed if the in-form Rickie Lambert doesn't start. He must keep hold of the ball well in this match because we'll be under pressure and it's vital the ball doesn't bounce back when we go forward.
"Lambert must make the ball stick and bring the likes of Lampard, Steven Gerrard and Jack Wilshere into play. I think James Milner will probably play in one of the wide areas, but I'd like to see some real pace out there to cause them problems and occupy the full-backs."