Phil Jones of Manchester United has denied snubbing the England U21 side
Manchester United's Phil Jones says he is upset about Stuart Pearce's claim that he snubbed the England U21 team.
Last Updated: 12/09/13 8:09pm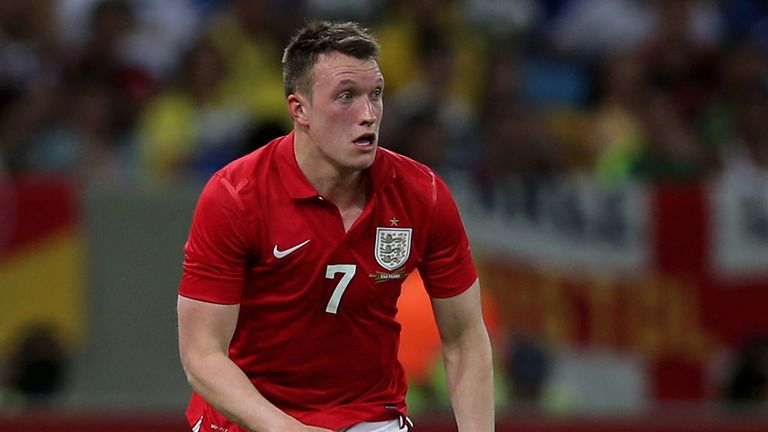 Pearce lost his job as boss of the U21 side after they performed disappointingly at the European Championship.
And he recently singled out Jones and Alex Oxlade-Chamberlain of Arsenal as two players who did not want to drop down a level and play in the U21 event once they had made it into the senior squad.
But, asked for his reaction to Pearce's comments, Jones said: "I didn't expect it and I am disappointed.
"It is simply not true. I have represented the Under-19s, the Under-21s and the seniors. I said from the first day I pulled on an England shirt, it sent shivers down my spine.
"How he can come out and say I didn't want to play for the Under-21s is beyond me.
"It wasn't nice to read what he said and I am sure Alex Oxlade-Chamberlain is thinking the same thing."
Out of my hands
Jones went with the senior squad on a post-season trip to Brazil, playing the whole match in the 2-2 draw at the Maracana Stadium, and pointed out that England boss Roy Hodgson had decided players chosen for that squad should not be considered for U21 action as well.
"It was totally out of my hands," said Jones.
"Roy Hodgson came out prior to the Under-21 tournament and said he regarded me as a senior player.
"I went on to play against Ireland and Brazil, so it wasn't a waste of time going with the seniors.
"If I had been on the bench I could have seen where he (Pearce) was coming from but I got a lot of experience from those two games.
"Don't forget I had also just come back from a knee injury, for the second time, and I had to manage it in the right way, control it, and make sure I wasn't overusing it.
"That's why I am really disappointed in these comments.
"People are entitled to their opinions and I will just get on with my football and ignore it.
"It hasn't dampened my enthusiasm for England though, definitely not. It is an honour to represent your country at any level."