Stephen Ireland would consider returning to action for Republic of Ireland
Stephen Ireland has revealed that he would consider making himself available to the next Republic of Ireland manager.
Last Updated: 15/09/13 11:52am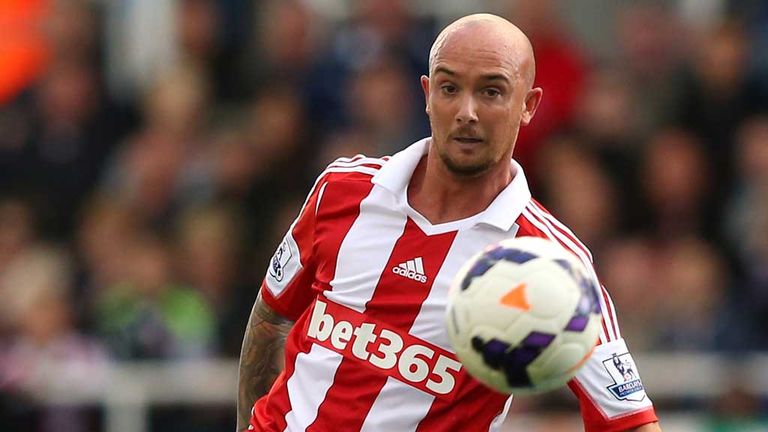 The 27-year-old is attempting to revive his career during a loan spell with Stoke this season having fallen down the pecking order under Paul Lambert at Aston Villa.
He has not featured for the Republic of Ireland since he lied about the death of both of his grandmothers after pulling out of the squad for a European Championship qualifier in the Czech Republic six years ago.
Giovanni Trapattoni, appointed the following year, attempted to bring him back into the fold but talks proved unsuccessful and Ireland later branded the Italian as "arrogant".
But after Trapattoni was sacked last week following the World Cup qualifying defeat in Austria, Ireland would be happy to discuss a possible return with the new coach - with Martin O'Neill currently the firm favourite.
He said: "I think I would like to get together and have a chat and try to put everything on the table, put across ideas and just have a good general chat.
"If nothing comes out of it, nothing comes out of it, but I think it would be nice just to have a chat.
"First and foremost it is just Stoke City on my mind. I need to get 10, 15, 20 games under my belt first and see how I go with that. Then maybe I might get in a position where Ireland want me to play and we could have a further conversation.
"Right now, all that is on my mind is Stoke, getting fit and getting 90 minutes under my belt and getting as many games as possible.
"It was my decision to leave Ireland and it's probably going to be my decision to go back if the manager asks, whoever they appoint.
"But first and foremost it's about my club and we'll have a conversation further down the line if they ever want me to go back. It all depends who the new manager is. It's a long time away yet, I think."