Premier League: Matija Nastasic happy with Manchester City's draw at Stoke
Manchester City defender Matija Nastasic does not think drawing at Stoke is a major disappointment.
Last Updated: 17/09/13 9:01am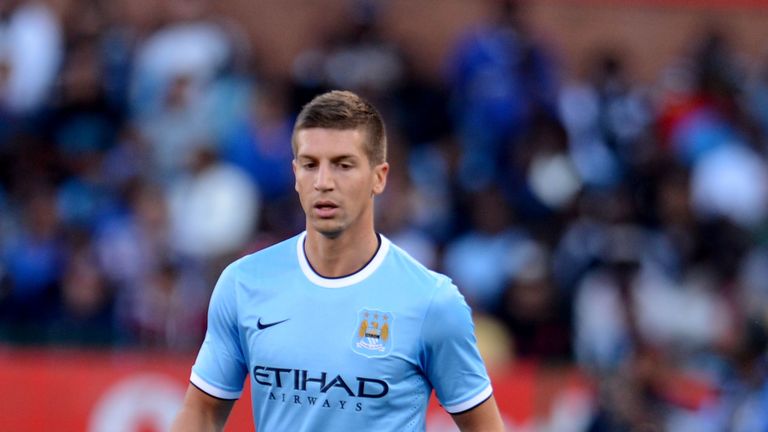 The 20-year-old started Saturday's Premier League clash at the Britannia Stadium next to Spanish midfielder Javi Garcaia, who was pressed into a defensive role.
And Nastastic believes that it was a tough game and to come away with a draw was not a bad result.
"For every team it is difficult to play here, for us as well. After the national team, it is difficult because players are very tired," Nastastic told the Manchester Evening News.
"The manager is looking at who is fit for the game. We played with six different players. I think we played well but we need to improve and score a goal when we have the chance.
"This point is good for us and now we are looking forward.
"In defence, it is difficult when we change the partnership every game. We did a good job but we need to play a lot of games, then it is looking better and better."
James Milner also admits that City will need more time to gel as a squad after Manuel Pellegrini took charge in the summer.
"We'd like to have a few more points. In the first game we played really well, setting our standards high, and since then we haven't quite hit those, for whatever reason," Milner said.
"We have a new manager and new players coming into the club so it will take time for everyone to get on the same page but the longer time we spend together, and the longer we play together, the better and we now have a few weeks before the next break.
"That's more time without everyone jetting off, and the more we are together the better the manager can get across his ideas and we can work together.
"Any team that has qualified for the group stages of the Champions League are obviously a strong team and deserve to be there. The groups in previous years have taught us not to take anything lightly."