Cameron Jerome says Crystal Palace will 'hurt teams' when they click
Cameron Jerome insists Crystal Palace have the ability to "hurt teams" this season.
Last Updated: 23/09/13 4:27pm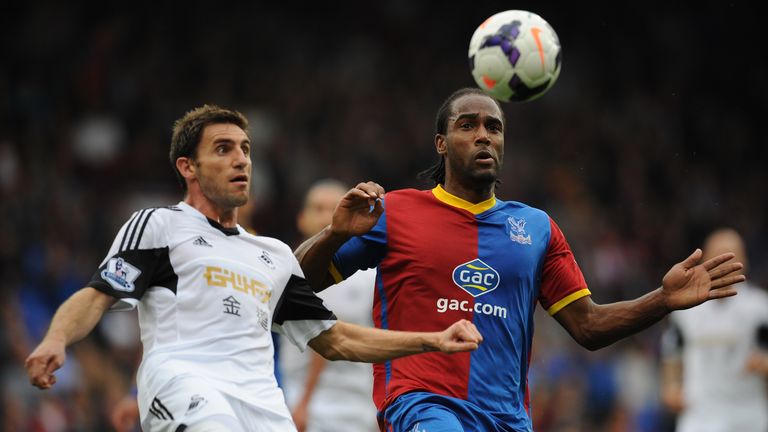 Palace were given the run-around by Swansea in the Premier League on Sunday, beaten 2-0 at Selhurst Park.
However, it could have been much worse, with boss Ian Holloway admitting that he could not find a single positive in the match.
Jerome was one of the Eagles' 15 summer arrivals and had no arguments with Holloway's view, but the on-loan Stoke man believes there is much more to come.
"Swansea are a very good footballing side and you have got to give them credit," he said.
"It is all a new process for us, we have got so many new players and stuff like that.
"It is just finding the right ingredients and getting that understanding together. We have got to do that sooner rather than later.
"We know we can play a lot better than that, but sometimes you have got to hold your hands up and say you were beaten by the better side.
"We have got to move on. If you dwell on things in this league, you are chewed up and spat out.
"Maybe we showed them a little bit too much respect and sat off them. You have got learn to cut out the mistakes as soon as possible.
"If we can do that and make sure we give our all, I am sure we can hurt teams here. It is just about us gelling together. That is not an excuse but all these little factors do add up."
Chamakh backed
Jerome expects Marouane Chamakh to be a pivotal figure at Selhurst Park following his move from Arsenal.
"The gaffer brought him in and he is a good player," Jerome said of his fellow striker.
"I don't think he had a fair crack of the whip at Arsenal and he works very hard for the team.
"He is unselfish and brings other people into play. We can work that and he can be a key focal point for the team.
"The more you play, the more you get an understanding. Sometimes you hit it off instantly but sometimes it takes time to click. The manager has got competition for places."