Goal of the night
Watch the videos, check out the Opta analysis and vote for your favourite goal from Tuesday night.
By Alex Dunn - @skysportsaldunn
Last Updated: 02/10/13 11:04am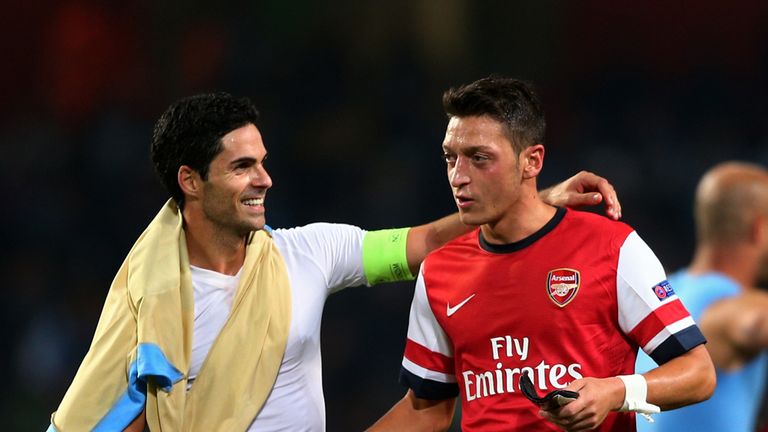 The second round of UEFA Champions League matches produced some more fascinating football on Tuesday evening. Sky Sports has rounded up the two best goals and you can watch the videos, check out the Opta analysis and vote for your favourite.
GOAL A: Mesut OZIL, ARSENAL v Napoli
True footballing technicians make really difficult skills look easy and never more so was it evident than in Mesut Ozil's imperious performance against Napoli. Time seemed to stand still whenever the ball was in his vicinity as he glided past forlorn challenges with balletic grace. His goal summed up his performance. When Bacary Sagna lofted the ball down the right flank Olivier Giroud darted in front of his man, took the ball on his chest before showing his strength in holding off his marker and playing in Aaron Ramsey on the overlap. The rejuvenated Welshman made inroads before cutting the ball to the edge of the box into Ozil's path. Without breaking stride the new darling of the Emirates made light of an awkward bounce to cushion a rising but controlled finish beyond Pepe Reina. Post-match Arsene Wenger was like a child given a puppy on Christmas morning as he purred: "First half, absolutely amazing, fantastic. Everything was in there - collective skill, individual skill, finishing, all that you dream to see."
GOAL B: Julian DRAXLER, FC Basel v SCHALKE
On a day when Bundesliga strugglers Schalke badly needed a win Julian Draxler provided just the fillip in Basel. Jens Keller's side have endured a tough start domestically as they sit fifth from bottom in the table and 11 points shy of leaders Bayern Munich after just seven matches. In truth, on the night, they were far superior to a Basel side that beat Chelsea on Matchday 1 but it nonetheless required a moment of genuine quality to break the deadlock. Dennis Aogo's corner on 54 minutes committed the cardinal sin of failing to beat the first man but when the ball broke to Draxler 25-yards from goal he adjusted his body shape perfectly before returning it with interest on the volley to give Yann Sommer not a prayer in Basel's goal. That not a single defender tried to close him down certainly helped his cause, but that should not detract from what was a truly world-class strike.
Which do you think was the best goal? Have we picked the correct two? Have your say and vote in our poll at the bottom of this page