Champions League: Schalke's general manager has sympathy with Greenpeace protesters
Schalke's general manager has sympathy with Greenpeace protesters who disrupted his side's Champions League match.
Last Updated: 02/10/13 2:50pm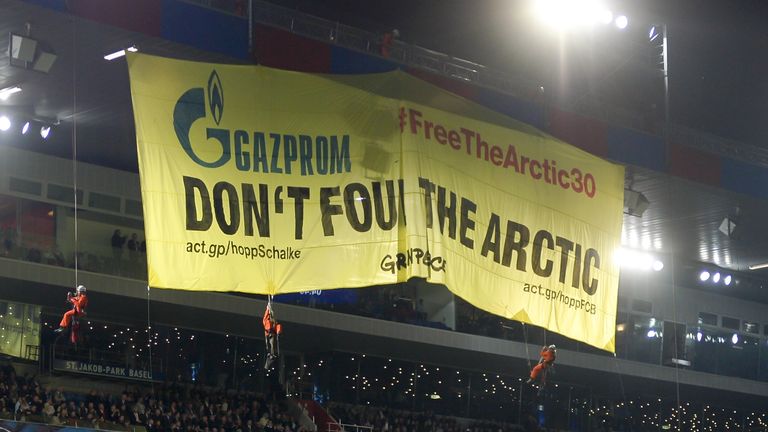 The match, which Schalke won 1-0, was held up after only four minutes on Tuesday night when the protesters abseiled down from the roof of Basel's St Jakob-Park stadium and unfurled a banner which contained a message against Schalke sponsors Gazprom.
The banner was removed and proceedings resumed following a short delay, while the protesters were removed from the roof and were arrested by police.
Heldt was quoted by the Bild newspaper as saying: "It is important that there are organisations that are committed to things that concern all people. I can identify with it, these are topics that are important to everyone."
UEFA confirmed on Tuesday night that disciplinary action might be taken against Basel over the protest but only after the match delegate's report had been submitted.
The Group E match was settled by a glorious volley from Julian Draxler which sailed into the top corner.
"Julian has the quality to take the ball like that," Schalke coach Jens Keller said on the club's official website. "A fantastically beautiful goal."
The win put the Royal Blues top of the pool with two wins from two, while Basel returned to earth with a bump after their Matchday One win away to Chelsea.
Keller said: "We're pleased that we won and now lead the group with six points. We earned it too, as we played with full concentration from the start and set our tactics up well to deal with Basel.
"The team worked well together. Basel applied pressure in the second half, but we knew it would get difficult. We chased down every ball, defended well and smothered their wing play. Our forwards also tracked back well. Basle didn't have a bad match, we just played very well."
Basel boss Murat Yakin added: "After we beat Chelsea in the first group game, expectations were very high, but Schalke didn't make it easy for us here. Our opponents were well-organised and were constantly trying to take the lead on the counter-attack.
"We weren't accurate enough in front of goal. Our strikers couldn't make a breakthrough as Schalke simply defended so well. The goal came from a set-piece, a rebound in the 18-yard box. We weren't strong enough at defending set-pieces.
"Overall, we didn't put on a good display, we didn't play together well enough as a team. Instead, everyone was waiting for someone else to make a good move. We didn't deserve to get a point."