Andre Villas-Boas: FA's failure to punish Fernando Torres is 'a disgrace'
Andre Villas-Boas says the FA's decision not to punish Fernando Torres for scratching Jan Vertonghen is "a disgrace".
Last Updated: 02/10/13 6:26pm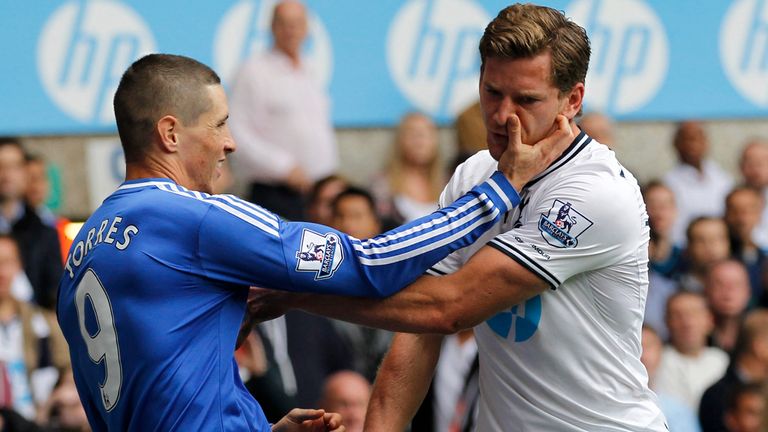 Chelsea striker Torres was sent off during Saturday's 1-1 draw with Tottenham, but neither of his two bookings was for laying his right hand on Vertonghen's face.
Television replays appeared to show Torres digging his nails into the Spurs defender, but the FA said it was powerless to sanction the striker despite a summer amendment to its disciplinary procedures.
Under the new rules, retrospective action can be taken on incidents seen by match officials when those officials "are not in a position to fully assess a 'coming together' of players."
The FA's explanation for not charging Torres was that "one of the match officials saw the coming together of the two players, albeit not in its entirety."
That verdict has stunned Tottenham manager Villas-Boas, who said: "It's extremely difficult to know where to start.
"Obviously, it is almost a farcical decision. It doesn't matter to me which player or club is involved.
"Neither do I want to with my words put into question Fernando's integrity; neither their manager's, in trying to defend what is our position.
"I think the FA has made a decision almost a joke. It looks incredible. How can you see the images, pretty clear, and come out without punishment, on something which overtakes all professional behaviour?
"I think the decision is a disgrace. If the committee can't solve such clear images I don't think it sets out a good first example.
"I think the FA has lost all opportunity to put some sense into the images everybody saw."