Premier League: Per Mertesacker says Mesut Ozil has settled into Arsenal life very quickly
Per Mertesacker says Mesut Ozil has settled into his new life in London - and that Arsenal are reaping the benefit.
Last Updated: 03/10/13 4:30pm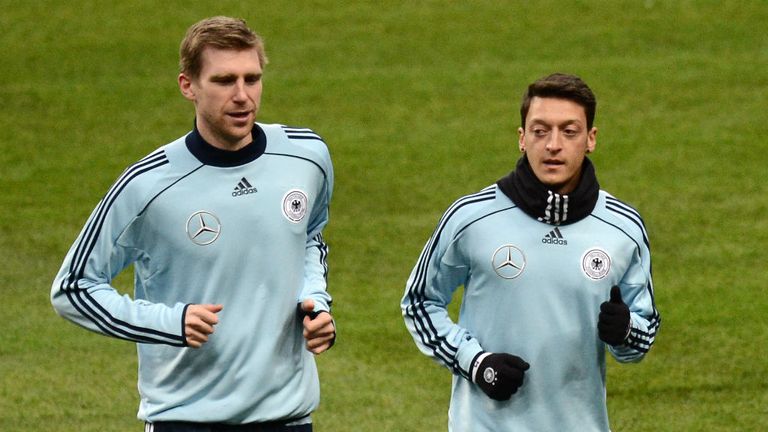 Ozil, a club-record £43million deadline-day arrival from Real Madrid, has won over the fans with a series of classy displays and scored his first goal in the 2-0 win over Napoli on Tuesday night.
"Mesut can play football, that is what his aim is to be here to do, so it is just the little details," Mertesacker said.
"It is things like how to get on (in London), how to come to the training ground, to get to whatever he wants to go. It is just a quick call or a text, you can help him out.
"I need to (help Ozil settle), because it is very important to get him into the squad quickly, so that he can adapt and play with freedom.
"That is what he is - his vision is enormous and with him we are more dangerous and can compete at the higher levels.
"We try to make it comfortable for him to adapt as quickly as possible and it fits.
"Against Napoli, you felt that he could play 90 minutes on a high level, he can make the difference at any time in the game.
"We are delighted to have him here and to help him to get into the team. He has shown that he respects our game and that he does fit in.
"We can expect a lot (more) from him in the coming weeks, you could see that we needed his contribution and he is the right addition."
Mertesacker is happy that there is a growing band of Germans at the Emirates this season, with Ozil and himself joined by Lukas Podolski and Serge Gnabry in the first-team squad.
"At first I was on my own here, with no Germans in the senior Arsenal squad, so it took me maybe one season to settle in completely," he said.
"I am delighted with my current form and my performances, but in football life changes so quickly, you have to be aware of every situation.
"We have a good and strong squad, if everybody is fit, the boss has a good selection.
"I think we now have a squad to compete at the high level and that is what we need to do in the coming weeks."
Don't forget you can see how Per Mertesacker, Mesut Ozil & Co get on against West Brom this weekend, when the match is screened live on Sky Sports 1 from 15.30